2020 Thanksgiving Drive Delivers Yet Again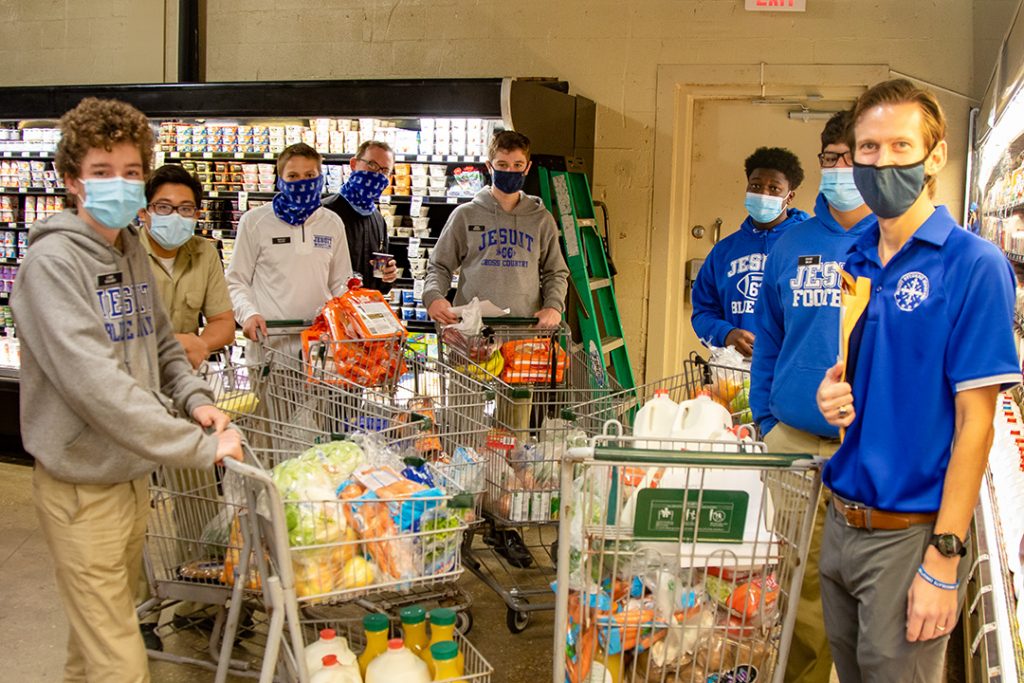 The Thanksgiving Drive is a hallmark event of the fall semester, calling the entire Jesuit community of students, faculty, parents, and alumni into action in service for others. This year's drive provided a Thanksgiving meal to 535 families in the New Orleans community.
The senior speaker for the Thanksgiving Prayer Service was tennis player Nicholas Crockens. He started his speech by recounting his junior service project with A's and Aces', a nonprofit that he attended as a child.
"My time at A's and Aces' showed me what being a man for others is all about," Crockens said. "That's what the Thanksgiving Drive is about too. Members of our community are scraping and clawing to make ends meet, and we have a job to do today. A chance to give back and help the ones that need it the most."
That is exactly the attitude that Jesuit community members have had over the last month as they have collected canned goods, donated money for perishable foods, organized baskets, and spread out over the community on Wednesday to make deliveries.
Service Project Coordinator Kevin Murphy '00 also offered powerful words at the prayer service.
"The drive is an acknowledgment that we live in a community," Murphy said. "And the community is a much better place for all of us to live in when we lend each other a hand.
"These baskets are an affirmation on our part that we are serious about putting our Catholic faith into action and getting to work on building the Kingdom of God right here at home."
While the usual rush of students at Robert's did not occur, some students were still able to shop in shifts at the Lakeview grocer and provide a full basket for each family.
In addition to the "Turkey Class," the Class of 1983 who generously provides the turkeys for all of the families in the drive, alumni of all classes gathered on Tuesday afternoon and Wednesday morning to provide meals for a portion of the 535 families.
In all, it is truly a community event, one that forms bonds of connection in countless ways. Of all the things to be thankful for, Jesuit's commitment to serving others is the gift most cherished by the community in this season of giving thanks.
Check out the speeches from the Thanksgiving Basket Prayer Service and article from Nola.com to get all the information on the annual Thanksgiving Drive.