2020-21 Cagers Relying On Talent and Tenacity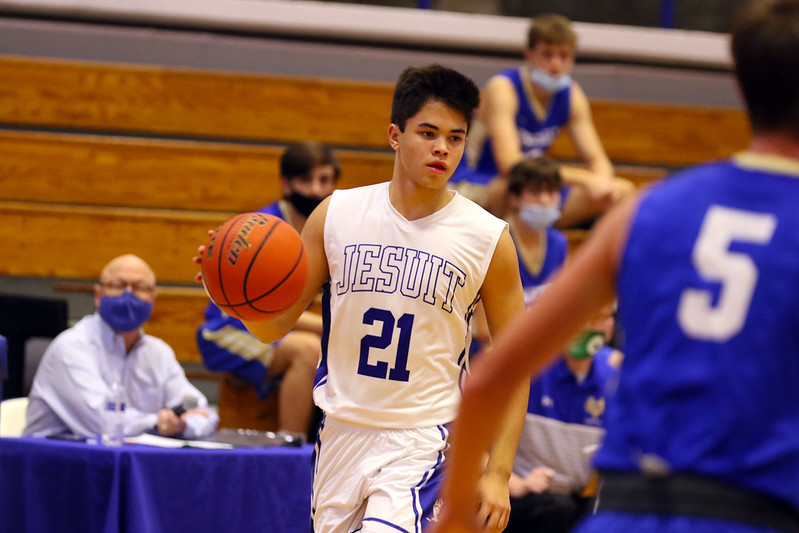 Talent. Depth. Speed. This year's Jesuit basketball team has all three. Where it takes the Blue Jays is up to them.
After beating Lakeshore in an exhibition, 59-52, the Jays walloped Vandebilt Catholic, 101-28, lost to L.B. Landry, 53-45, and thumped Morris Jeff, 100-42. For record keeping and power-point calculation purposes, the Jays are 2-1. The Jays travel to Bonnabel on Wednesday, Nov. 25.
Almost the entire team is back from a year ago.
With summer games shut down, head coach Chris Jennings '78 and his staff (Jonathan Hernandez '00 and Ed Tuohy) worked with players individually on ball handling, shooting, and defense. And it's paying dividends. "It's not something I've done before, but it is something we'll be doing in the future."
One player Jennings didn't get to work with is 6' 5" sophomore Josh Washington, who sat out his entire freshman year with a serious knee injury. "He's the most talented player I've coached in my 30 years at Carrollton & Banks," Jennings said. "God has given Josh great ability. How he develops that ability will determine how good he can be and how good we can be."
Fellow sophomore Jack Lo (6' 1"), who saw meaningful varsity minutes as a freshman, is also expected to be a major contributor on the offensive end. Lo and Washington can create their own shots.
However, anyone who follows Jesuit basketball knows that team play always trumps individual accomplishment.
Other experienced returnees include seniors Malcolm Baldwin (6' 0"), Chris Gillen (6' 2"), Porter Lichtl (6' 3"), and sharpshooter Patrick Lavie (6' 1"). Luke LaForge (6' 2") will add physicality and athleticism when football ends.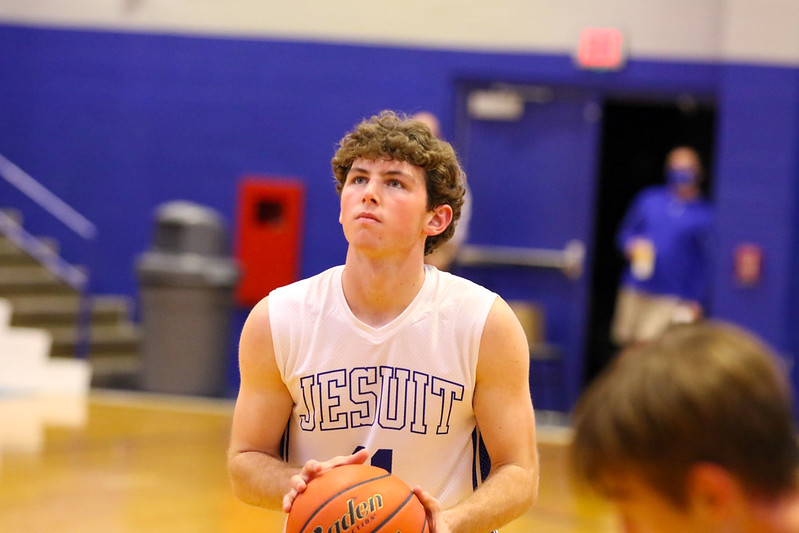 Matthew Knight (6' 1"), who came off the bench to ignite the Jays in a double overtime thriller against Shaw last year, and Michael Britsch are among four juniors on the roster. Like LaForge, Alex Lissarrague remains focused on football. Junior William Pouyadou (6- 4") – another football player – and sophomore William Good (6' 1") will be making their varsity debuts.
That depth will allow the Blue Jays to run the court more often and be more aggressive (if that's possible) on defense without worrying about foul trouble. Like the teeth of a great white shark, when one is lost, there's another one chomping at the bit.
Expect something you seldom see in the Birdcage, now known as the Gayle & Tom Benson Arena.
"I've always been a man-to-man guy, and that'll always be my focus, but when the situation dictates it, we'll be ready to play a zone defense. Sometimes change is good and necessary," Jennings said.
And the atmosphere itself will look different. Players and coaches on the bench – an expanded one that now includes what was the student section – are wearing masks, and players are fetching their own water bottles, which shouldn't diminish the good work of managers Jacob Caldarera and Eddy Boudreaux, who will be tracking shot selection among other important duties.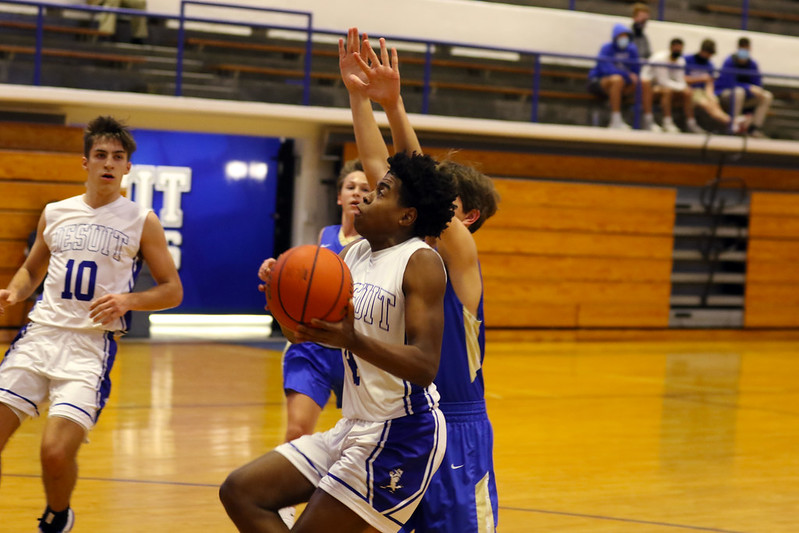 This season marks the 20th anniversary of Jesuit's last basketball state championship. The talented and tenacious 2000-01 team defeated Shaw to take home the LHSAA trophy.
"What separates the good teams from the great ones is work ethic – at practice and after it," Jennings said. "How this team is ultimately defined is up to them."
District play begins Tuesday, January 5, at Brother Martin.