Jesuit Welcomes New Faculty and Staff
By Aidan Wang '25 and Staff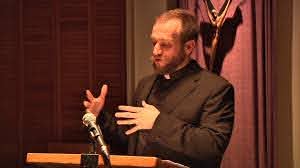 The pandemic of 2020 has caused many changes to our lives. One of them happens right within the walls of Jesuit High School, where a number of people have taken early retirement or moved on to other jobs since last spring's Covid-19 lockdowns ended classroom learning early.

For this 2020-2021 academic year we have a high of 23 new faculty and staff members in addition to two new faculty members, Daniel Augustin and Jeremy Reuther, who served the school in other capacities last year. Mr. Augustin served as an Alumni Service Corps teacher last year and Mr. Reuther was director of communications before returning to the classroom as a theology teacher this year. Here are all of the new faces at Jesuit.
The Additions for the English Department this year are,
Mr. Mark Babin '01, a lover of fiction with fond memories of late Jesuit president Father Raymond Fitzgerald, S.J.
Mr. Nicholas Courtney, S.J., a Jesuit scholastic (seminarian) from New Orleans and Loyola University graduate who is preparing for ordination to the priesthood. Mr. Courtney played football in middle school, studied in England after Loyola, and received an M.A. degree from Fordham University as part of his Jesuit formation. He came in October to replace Mr. Bob Roso, who decided to retire in the middle of the school year. He loves medieval philosophy.
Mr. Ethan Gilberti '16, who is also editing the literary journal Calliope and advising the fencing club this year. He participated in fencing as a student himself. He just graduated from college with his English degree last spring.
Dr. Ken Lota '06, who holds a doctorate in English and enjoys Wes Anderson movies.
Mr. Josh Bourgeois '13, who recently got married and bought a house.
The New Addition to the Art Department is,
Mr. Kyler Pisciotta '16, who is also serving as a wrestling team coach.

New Additions to the Guidance Department are,
Mr. Cameron Eckholdt '09, who has returned to counsel his fellow Blue Jays after studying as a therapist.
Mrs. Robin Rhodes, new eighth grade counselor, is a busy mom outside of school.
Mr. Nick Nguyen, new health and wellness counselor, who enjoys being at Jesuit despite graduating from St. Paul.
New Additions to the Modern Foreign Language Department
are,
Sra. Rebeca Campos, the wife of alumnus Jacob Campos '13. She is also helping with the newspaper.
Sra. Kendall Gibson, who previously taught Spanish at the university level before coming to Jesuit this year.
Sen. Herbert Spurlock '14, whose Spanish studies included travel abroad and who enjoys challenging his students.
New Additions to the Science Department are,
Mr. Matthew Firmin '10, a man of mystery with an M.A. whom The Blue Jay will eventually corral for an interview.
Mr. Jeff Reuther '99, brother of Jeremy '01, who teaches chemistry and shares an office with newspaper and yearbook.
New Additions to the Social Studies Department are,
Mr. Jon Orillion '01, a JHS wrestling alumnus who joins his brother Matt '98 as a member of the faculty.
Mr. James Linn '06, who holds M.A. and B.A. degrees.
New Additions to Theology Department are,
Mr. Daniel Augustin '15, who was hired full time this year after serving last year in the Alumni Service Corps.
Mr. Roger Bacon '10, who has returned to his old high school to teach theology in his deep baritone voice.
Dr. Josh Brumfield, who holds a doctorate in theology and now teaches Catholic Social Thought to seniors.
Fr. Stephen Kramer, S.J., who previously taught at Jesuit in 2015-2016 as part of his formation for the priesthood. He was ordained in 2019 and is also serving this year as a wrestling coach. Originally from St. Louis, he graduated from the Jesuit high school SLUH, and also attended Saint Louis University. He is teaching Christian Vocations to seniors this year.
Fr. Sean Salai, S.J., also the newspaper advisor, a former newspaper reporter who is currently finishing a Doctor of Ministry degree in evangelization and digital media from The Catholic University of America. He teaches Christian Vocations to seniors and also writes for America magazine.
Mr. Paolo Taffaro, who is teaching at Jesuit this year as he discerns a call to the priesthood in the Society of Jesus.
Mr. Jeremy Reuther '01 has returned to the classroom as well as taken on a new administration role. The school website notes that he "has assumed the responsibilities of the Assistant to the President for Mission. Aimed at forming faculty and staff who are enthusiastic participants in the school's mission, the role will develop programs to enhance faculty and staff performance, Jesuit identity, and curriculum…. Jeremy has been with Jesuit for 15 years, serving in a variety of capacities as a theology teacher, campus minister, department chair, and most recently as the communications director. His involvement with the Ignatian Identity Team, faculty retreats, and Lenten formation programs for faculty will be assets for his new role
of building relationships with faculty and staff to advance the mission
of the school."
Finally, the New Additions to the Communications Department are,
Mr. Christian Bautista '06, whom the website says "is joining the Jesuit administration to serve as the school's new Director of Communications, filling the position most recently held by Jeremy Reuther. Bautista will oversee internal and external communications to ensure that the mission of Jesuit is evidenced in all print and digital publications, press releases, and other messaging and media associated with Jesuit High School. He will be interfacing with many components of Jesuit High School from admissions to academics to athletics to ensure excellent representation and mission alignment for all of the school's endeavors. Holding a M.Ed. in school leadership from Harvard University as well as two undergraduate degrees in education (B.M.E.) and music (B.A.) from Louisiana State University, Bautista returns home to Jesuit after almost 10 years as a classroom teacher, band director, policy analyst, and assistant development director. He has worked in various educational roles from Metairie to Boston to
Cambodia, and he has experience in a variety of Catholic, public, and
charter school settings."
Mr. Myles Kuss '16, who graduated from Louisiana State University last spring and specializes in sports journalism. The school website notes: "The Development Office is also proud to add Myles Kuss '16 to the institutional advancement team. He replaces Jack Culotta '13 as Communications and Alumni Assistant, and in this role he will be serving Jesuit High School in areas including event coordination, alumni relations, and media content creation. A graduate of Louisiana State University with B.A. in journalism, Kuss will be contributing to both the communications and alumni offices. At LSU, he was a columnist for the Daily Reveille, a producer for Tiger TV, a cohost for KLSU, and a sports clerk for the Advocate for two years.

In addition, Coach Mark Songy has taken on a new job, allowing Scott Bairnsfather to take over the football team. The website states that Songy "has been named the new Prefect of Discipline for Jesuit High School. Moving across Banks St. from his position as Head Football Coach, Songy…holds a B.A. from Louisiana State University and has accumulated over 38 years of experience in education as a classroom teacher and as a coach. Held in high esteem by students, faculty, and parents alike, Songy accepted this position with the following statement: 'I am very excited about the opportunity to serve in this new and important role at Jesuit High School, a place which continues to mean so much to me both personally and professionally. While I will certainly miss my role as Head Football Coach, I realize that this opportunity will allow me to work closely with our tremendous faculty and especially with a much larger part of our student body. I'm grateful for such an opportunity to be able to assist in carrying out the mission of Jesuit on an even larger scale.'"

Coronavirus restrictions on normal school life have made it difficult to get to know all of these new faces this fall. Much of the above information for this article was compiled from publicly available sources and based on email interviews. While we weren't able to interview all of these teachers in depth at the time of this article's publication deadline, they will be featured in future issues as we all get to know them better at Jesuit.