Teacher Feature: Mrs. Merritt
By John Dlugos '24, Media Editor 
Mrs. Leslie R. Merritt is a math teacher for Algebra 1 and Geometry Honors. She is also the moderator for Foosball Club, Chi Alpha Mu, and Acoustic Guitar Club. Mrs. Merritt attended Central High School in Morgan City, LA, attended LSU, but finished her college days at Loyola University.
She has been teaching at Jesuit on and off for 30 years, but she had a few jobs before coming here. Mrs. Merritt stated: "Before graduating college I was a receptionist at a medical office, a lifeguard, and a swim coach." She continued, "After getting a degree in education, I taught at McMain and Dominican before coming to Jesuit."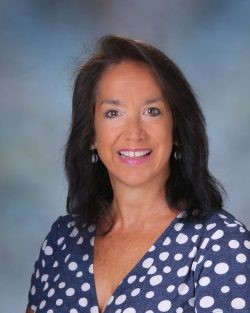 Q: Why did you decide to be a teacher?
A: At one point in my life, I thought I was being called to be a Dominican nun and they were the Order of Preachers, so I changed my major from nursing to education.
Q: What is your favorite part of your math class to teach during the school year?
A: I like to watch students think and put all the pieces together. For that reason, I like factoring in Algebra I and proofs in Honors Geometry.
Q: What is your favorite number or a number you like to use for examples and test questions?
A: 23…it was my number when I played volleyball in high school. I did not mind sharing it with Michael Jordan or Pierre Thomas 🙂
Q: What would you say is the most difficult part about being a math teacher?
A: It hurts my heart that some of my students believe they do not like math…and the fact that I must put a grade on everything.
Q: What would you say was the hardest part about teaching this year due to the ongoing Covid-19 pandemic?
A: Because of the hybrid schedule in the first quarter, it took me a while to get to know my students. I am still having difficulties since many of my quiet students are tucked away under their masks. In addition, I miss letting my students do group work. It is fun to see the "Men for Others" in action when they are helping each other with a difficult math problem.