Naming The Stuart Brothers Bridge
By Andrew Cavignac '22, Staff Writer
Pedestrian Walkway, Skybridge, Jaywalk. The bridge over Banks Street goes by many names. Recently, I sat down with the president of Jesuit High School, Fr. John Brown, to learn more about this new staple of Blue Jay life.
To start off the interview, Fr. Brown gave me some basic facts about the bridge and its construction. First of all, the bridge will be dedicated as "The Stuart Brothers Bridge," named after a group of Jesuit alumni who helped pay for the bridge: Walter '64, Robert '66, Klein '68, Sid '69, and Scott '77. Although it had only been in development for about two and a half years, Fr. Brown said that "people have been talking about the bridge for decades."
This dream finally came to fruition under former president Fr. Christopher Fronk's Minds and Hearts Enlightened Capital Campaign. The bridge was put in place in January 2020, but due to COVID-19's forcing Jesuit to close, it was not used until August of the same year.
Although the bridge had long been in Jesuit's plans, Fr. Brown said the construction of the bridge faced understandable controversy from the school's neighbors. Some members of the community were concerned that the bridge might be too low for traffic, an eyesore, and warrant the cutting down of the beautiful oak trees that adorn Banks Street.
Jesuit alum and city councilman Joe Giarrusso '94 saw the bridge controversy as an opportunity to bring Jesuit and its neighbors together to have a much-needed conversation about quality-of-life issues for residents. This resulted in very positive cooperation for neighborhood projects and compromise regarding the bridge. Eventually the city council voted unanimously to give air rights to Jesuit to complete construction. Fr. Brown was very pleased to have reached this compromise and said, "When Jesuit considers its neighbors' best interests, it's in everybody's best interest."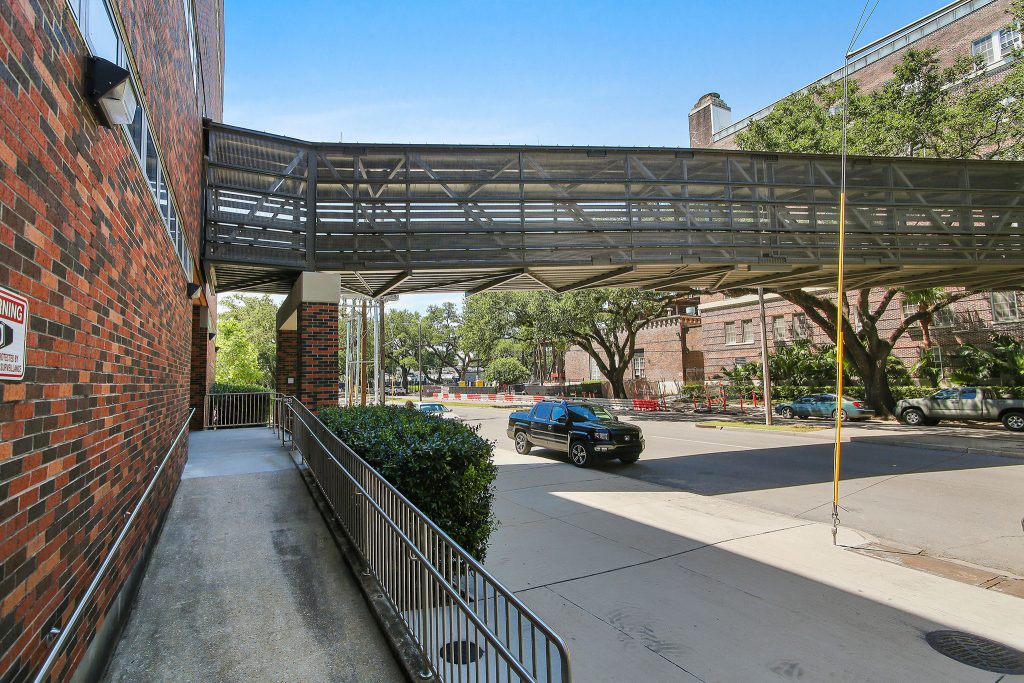 The new bridge, which is high enough for traffic and complementary to the oaks which surround it, has made Jesuit High School a safer and more efficient place. Jesuit no longer has to let students out early, use a crossing guard, cancel P.E. on rainy days, or most importantly, leave the first floor entrance to the Roussel Building and Benson Arena unlocked. In the end, Fr. Brown confessed that he doesn't know "how we ever lived without" the Pedestrian Walkway.
Fr. Brown also expressed his gratitude to the benefactors of the Minds and Hearts Enlightened capital campaign, without whom its completion would not be possible. The pedestrian walkway has made Jesuit a better place and proven itself as a necessary aspect of life at Jesuit.