Jesuit Loses Another Close Contest Against John Curtis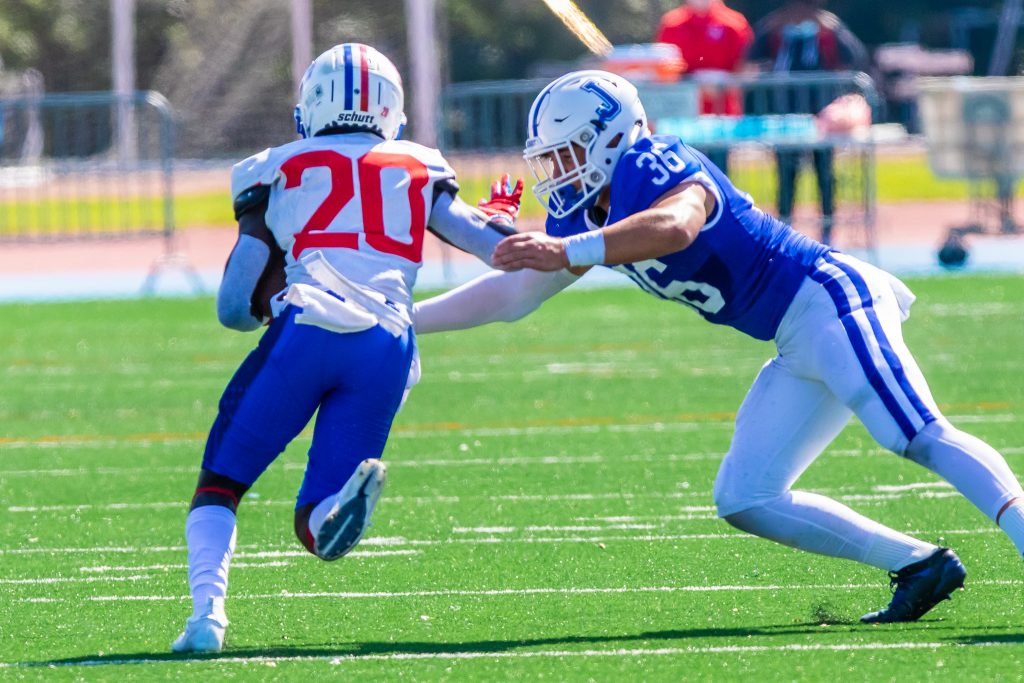 On a beautiful afternoon for football, the Jesuit Blue Jays (2-3) fought hard on both sides of the ball but came up short against the John Curtis Patriots (3-2) by a score of 23-16 on Halloween.
In a rematch of last year's playoff matchup, both teams committed to playing defense out of the gate. The Blue Jays looked prepared for the Patriot triple option, and John Curtis held Jesuit to two Aiden Corbello field goals in the first half.
When the first half came to a close, the Patriots held a slight edge by a score of 7-6, thanks in part to an interception by senior Hayden Morris late in the half, but neither offense was firing on all cylinders. While John Curtis had the lead, the Jays received the ball to start the half.
Unfortunately, the Jays could not capitalize and were forced to punt it away. The Jesuit defense was back on the field and held strong by forcing a tough fourth down for the Patriots, but John Curtis went for it and rushed in for six to extend the lead to 15-6.
After some back and forth, Jesuit stopped John Curtis on fourth, and the momentum swung to the blue and white with five minutes to go in the game.
Senior Max Milano, senior Luke Besh, and sophomore Jace Larsen answered the call and had multiple catches on the impressive drive that got Jesuit inside the 10. Ultimately, the possession ended in another Corbello field goal. Jesuit kicked the ball back to Curtis with four minutes and 56 seconds to go and only down 15-9.
In a series that held the game in the balance, the Blue Jay defense forced a punt and gave the offense a chance to take the lead. On the third play of the series, LaForge threw a ball close to the sideline that was picked off and brought back for six that sealed the win for John Curtis.
Jesuit did not quit and marched down the field that ended with a touchdown to Besh with six seconds remaining, but the game would end there with the score being 23-16.
Throughout the afternoon, Jesuit was back to the two quarterback system as junior Jack Larriviere was poised to put together another impressive performance, and senior Luke LaForge returned from injury to start for the Jays.
Larriviere went 4-of-8 for 48 yards, and LaForge finished the day 14-of-27 for 179 yards and a touchdown. Both showed promise through the air and gained momentum going into next week.
Jesuit now looks ahead to stop their two-game skid against Shaw on Saturday, Nov. 7, 2020, at 1 p.m. at Strawberry Field in Hammond.