Golf Finishes Fall Season Undefeated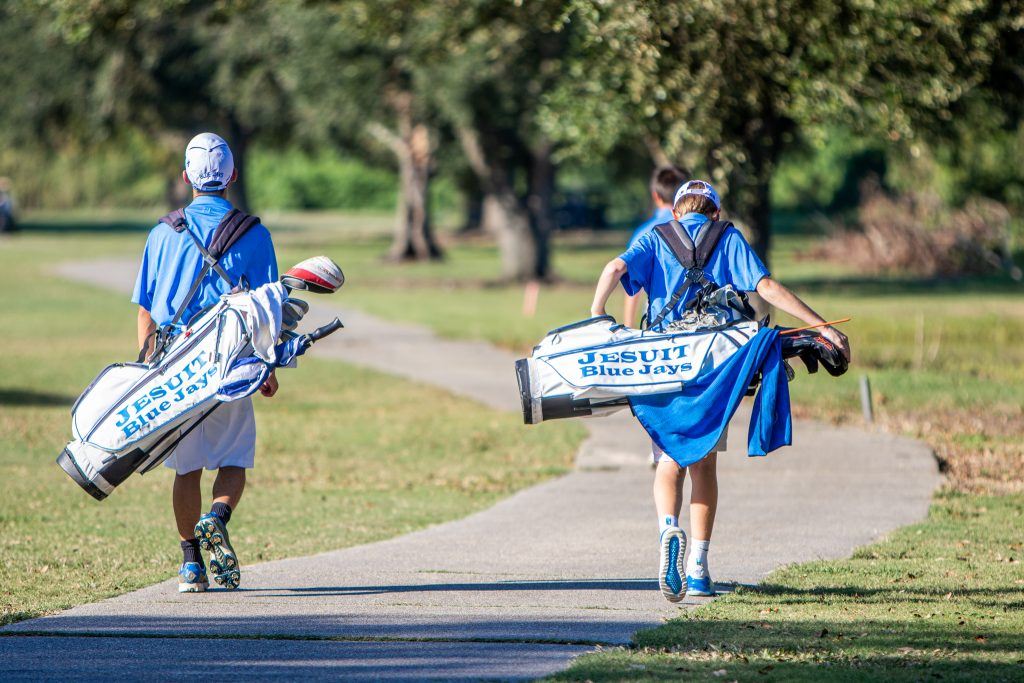 Jesuit ended its impressive run during the fall campaign on Wednesday as the Blue Jays improved to 8-0 after a decisive win over Brother Martin.
Jesuit performed well all week by beating Holy Cross on Tuesday and Brother Martin the following afternoon. All the Blue Jay golfers brought their best to the links, but junior Taylor Boasberg came out on fire against Holy Cross and found himself four under through eight holes. Eventually Boasberg turned in an impressive 34 on the day and helped lead the Jays to another impressive victory.
Freshman Collin Shay contributed with a 41 on the afternoon, and junior Jacob Schorr shot a 36 to cement the win.
Against Brother Martin, junior Merrick Rotolo and Boasberg shot an impressive 37, and Schorr was not far behind as he shot a 38 at English Turn Golf Course.
For the second straight year, Jesuit will go into the Spring season without a loss and have full momentum for another successful campaign.
Jesuit vs. Holy Cross, Oct. 13, 2020
Bayou Oaks, North Course
| | |
| --- | --- |
| Jesuit Golfer | Total |
| Taylor Boasberg | 34 |
| Owen Bourg | 44 |
| Collin Shay | 41 |
| Jacob Schorr | 36 |
| Hunter Hoffman | 44 |
| Total – Jesuit | 155 |
| Total – Holy Cross | 164 |
Jesuit vs. Brother martin, Oct. 14, 2020
English Turn Golf Course
| | |
| --- | --- |
| Jesuit Golfer | Total |
| Merrick Rotolo | 37 |
| Jacob Schorr | 38 |
| Taylor Boasberg | 37 |
| Bennett Ducasse | 43 |
| Alex Jeansonne | 45 |
| Total – Jesuit | 155 |
| Total – Brother Martin | 179 |