Rivalry Game SOLD OUT, Broadcast on CST
The Jays came out in their first two matchups against Helen Cox and Brother Martin and showed that they were ready to come out of the gates firing. While they lost a close matchup against Brother Martin, Jesuit will be ready to square off against Holy Cross for the 101st time on Oct. 17, 2020, at Strawberry Stadium in Hammond with kickoff set for 1:05 p.m.
While this 101st matchup will be anything but ordinary, an exceptional game and atmosphere can be expected on the campus of Southeastern Louisiana University.
Usually the Scholar Athlete and Community Service award recipients would receive their awards during halftime of the game; due to COVID-19 regulations, they will not be receiving their awards on the field but will be honored at the game.
---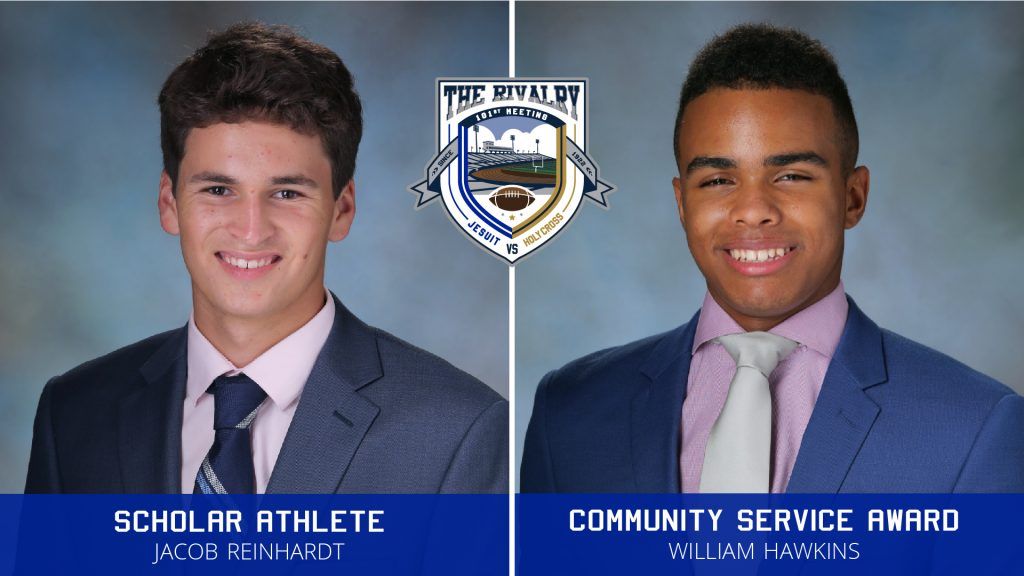 Jesuit's 2020 Scholar-Athlete is senior wide receiver Jacob Reinhardt with a 4.15 GPA.

In addition to being a football letterman, Jacob is a member of the National Honor Society, the co-founder and president of the Fishing Club and Team, and a Big Brother. This past summer he assisted at Jesuit's football camp for kids. He plans to attend LSU, Ole Miss, or Baylor and major in medicine. Reinhardt was also honored by the GARS with a short video that can be viewed here. Reinhardt will receive a $500 scholarship from The Great American Rivalry Series.
Jesuit's 2020 Community Service Award is senior defensive back William Hawkins.

Earlier in his Jesuit career, William sought out opportunities to serve the disabled and the homeless, working with the Special Olympics and serving breakfast with Grace at the Greenlight. Hawkins's service to those in need has extended beyond opportunities provided by Jesuit. During three of the last four summers, Hawkins has traveled to small towns in Tennessee and North Carolina with the Aurora United Methodist Church in Algiers to do roofing projects and other manual labor for people in need. Hawkins will receive a $500 scholarship from Royal Honda.


---
To keep the ambiance as fun and as safe as possible, fans should follow the following guidelines:
Parking is $5.00.
There is absolutely NO TAILGATING on campus. Police will be present to enforce.
There should not be parent or student congregation near the team busses following the game.
Attached are 2 layout maps. Both should be of assistance.
All attendees with Jesuit tickets should enter through the west side of the stadium and enter through Gate 1.
We are excited to play this historical rivalry at a new venue and see the Jays and Tigers go all out on the gridiron once again. While tickets are sold out, the team behind Crescent City Sports will produce a live broadcast of the Jesuit-Holy Cross game for the ninth consecutive year. This year, the game will air live on Cox Sports Television and will be streamed live by CrescentCitySports.com. In addition to the live broadcast, CST will also re-air the game at 7 p.m. on Saturday and again at 8 p.m. on Sunday. An archived version of the stream will also be available on the CCS website.