Mass of the Holy Spirit Illustrates the True Meaning of a Jesuit Education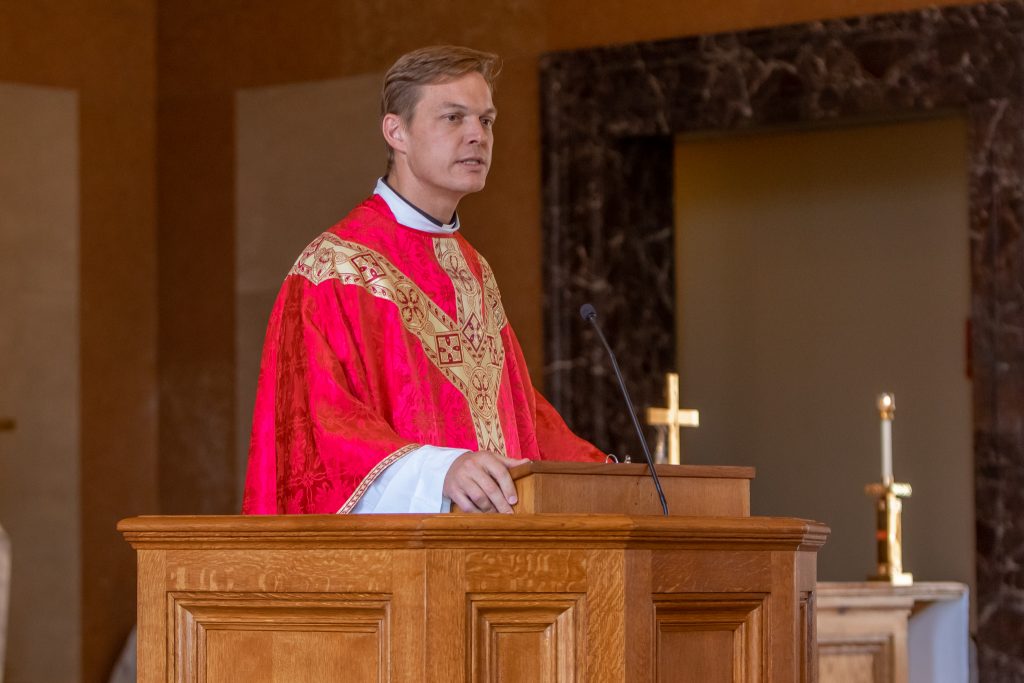 It is a Jesuit High School tradition to begin the year in prayer with the Mass of the Holy Spirit. This year, due to COVID-19 restrictions, 16 Masses were celebrated by five priests over two days.
That is a substantial number of Masses to be celebrated by only five priests, but the effort showed the importance of the Mass, and all who participated were excited for the opportunity to celebrate this special tradition.
On Sept. 4 and Sept. 8, 2020, all Jesuit students participated in the Mass during their theology classes and had the opportunity to experience a Jesuit tradition that lays the spiritual foundation for the rest of the year.
Interim president Fr. John Brown, S.J., Fr. Kevin Dyer, S.J., Fr. Stephen Kramer, S.J., Fr. Sean Salai, S.J., and Loyola professor Fr. Nathan O'Halloran, S.J., all celebrated in the Chapel of the North American Martyrs. While their homilies shared similarities, all five of them presented their perspectives of the Holy Spirit in unique and powerful ways.
The Mass of the Holy Spirit is not just a school tradition, but a practice that began in 1548 at the first Jesuit school in Messina, Sicily. Many Jesuit high schools and universities throughout the world celebrate the Mass of the Holy Spirit at the beginning of every school year.
To highlight just how powerful and informative the homilies were, the major points of emphasis from each priest can be viewed below or here.