Class of 2021 Receive Rings at Annual Mass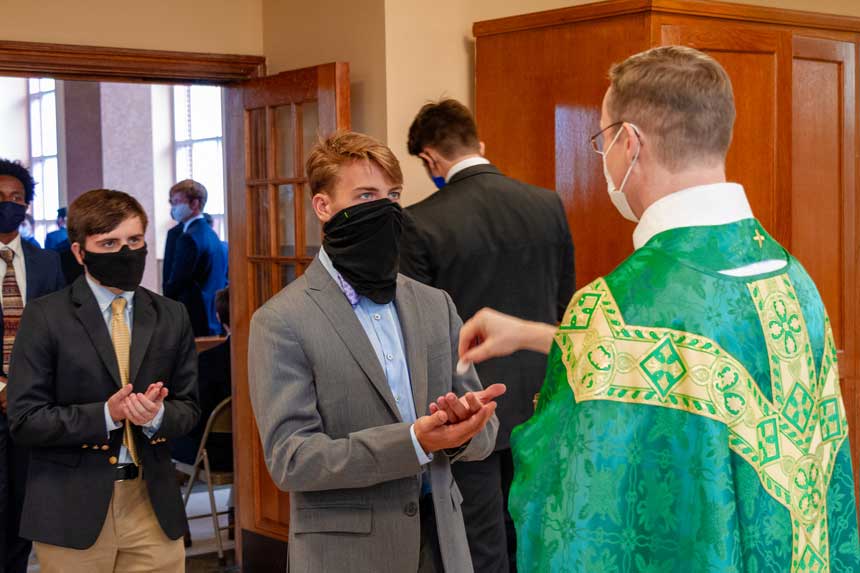 Jesuit Ring Mass makes many families feel a special sense of belonging as Blue Jays begin their senior year. Most students received their own rings, but some have a ring passed down to them from a family member who is a Jesuit alumnus, a tangible sign that the legacy of Jesuit formation is being handed on through the generations. While parents could not attend the ceremony in person, a livestream was created to ensure that all could participate in the Mass in a different way.
Seniors in the Class of 2021 received their rings on Saturday, Sept. 12, in the Chapel of the North American Martyrs, for which interim president Fr. John Brown, S.J., was the principal celebrant.
During his homily, Fr. Brown preached on the power of forgiveness and how perfect forgiveness will not one hold one back but set one free. After the homily, rings were presented to the 252 seniors gathered in the chapel. Fr. Brown, S.J., distributed each ring as the senior's name was called. At the conclusion of Mass, seniors processed out of the chapel and were able to display their new jewelry to their loved ones.
In case you missed the livestream, the ceremony can be seen in its entirety below.