Students to Attend Return-to-Campus Days in May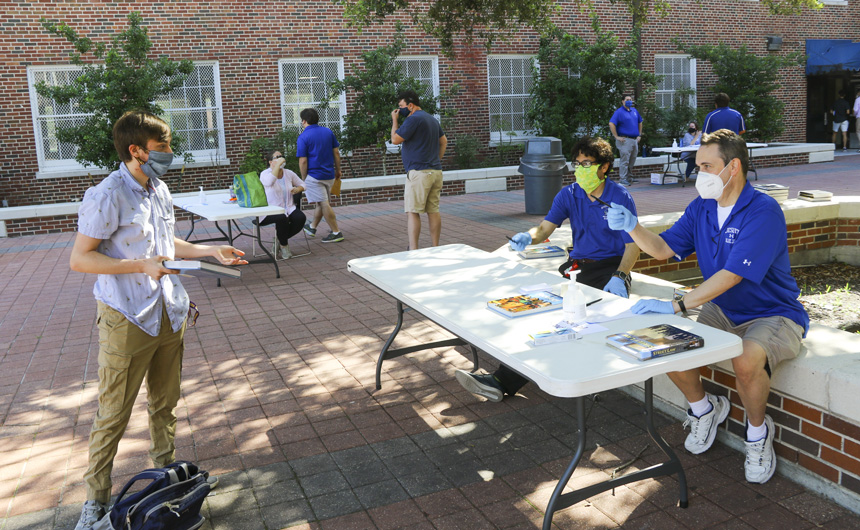 Jesuit is hosting return-to-campus days for each grade level in order to provide students with an opportunity to clean out lockers, return school supplies, and add closure to this school year. School personnel assisting with the days will be respecting social distancing and wearing masks for safety.
Read Information Specific to Seniors
Read Information Specific to Underclassmen
Students are encouraged, but not required, to wear masks during this event. Students do not need to wear their uniform for the Return-to-Campus days. Students will line up in the parking lot and move to the courtyard and commons to return and pick up various items. Parking will be available in the Roussel Building parking lot.
The following items should be returned on these day:
State Textbooks
Co-curricular uniforms and equipment (such as band, ROTC, athletics, etc.)
Library Books (and calculators from the library)
Printing fees
Unsold raffle tickets
Students are asked to come to school in the following groups and on the following days/times if possible:
Seniors – Thursday, May 21
| | |
| --- | --- |
| 9:00 – 10:00 a.m. | Homerooms 1201 & 1202 |
| 10:00 – 11:00 a.m. | Homerooms 1203 & 1204 |
| 11:00 a.m. – 12:00 p.m. | Homerooms 1205 & 1206 |
| 1:00 – 2:30 p.m. | Homerooms 1207, 1208, & 1209 |
Juniors – Tuesday, May 26
| | |
| --- | --- |
| 8:00 – 9:00 a.m. | Homerooms 1101 & 1102 |
| 9:00 – 10:00 a.m. | Homerooms 1103 & 1104 |
| 10:00 – 11:00 a.m. | Homerooms 1105 & 1106 |
| 11:00 a.m. – 12:30 p.m. | Homerooms 1107, 1108, & 1109 |
Sophomores Wednesday, May 27
| | |
| --- | --- |
| 8:00 – 9:00 a.m. | Homerooms 1001 & 1002 |
| 9:00 – 10:00 a.m. | Homerooms 1003 & 1004 |
| 10:00 – 11:00 a.m. | Homerooms 1005 & 1006 |
| 11:00 a.m. – 12:30 p.m. | Homerooms 1007, 1008, & 1009 |
Freshmen Thursday, May 28
| | |
| --- | --- |
| 8:00 – 9:00 a.m. | Homerooms 901 & 902 |
| 9:00 – 10:00 a.m. | Homerooms 903 & 904 |
| 10:00 – 11:00 a.m. | Homerooms 905 & 906 |
| 11:00 a.m. – 12:00 p.m. | Homerooms 907 & 908 |
| 12:00 – 1:00 p.m. | Homerooms 909 & 910 |
Pre-Freshmen Friday, May 29
| | |
| --- | --- |
| 8:00 – 9:00 a.m. | Homerooms 801 & 802 |
| 9:00 – 10:00 a.m. | Homerooms 803 & 804 |
| 10:00 – 11:00 a.m. | Homerooms 805 & 806 |
| 11:00 a.m. – 12:30 p.m. | Homerooms 807, 808, & 809 |