Winter & Spring Sports Recognition
At the conclusion of each season (fall, winter, and spring), the department of athletics holds recognition nights for the lettermen of each LHSAA sport. With the events for winter sports (basketball, soccer, wrestling) and spring sports (baseball, bowling, golf, tennis, track and field) being cancelled, Jesuit is publishing the lists of winter and spring athletes designated as lettermen, multi-sport lettermen, and LHSAA all-academic athletes.
Seniors will be able to pick up their certificates and multi-sport athlete coins when they return to campus to collect their materials. Underclassmen will receive their certificates from their coaches at a later date.
WINTER AND SPRING SPORTS LETTERMEN
View the List of Lettermen for Winter Sports
View the List of Lettermen for Spring Sports
The Jesuit High School office of athletics offers its thanks to all winter and spring sports teams and to each of the lettermen. Although many of the seasons were shortened, the efforts, sportsmanship, and dedication throughout the period of play was very much noticed and appreciated. On top of the participation in each sport, the manner in which players have represented Jesuit High School has been exemplary. The school wishes the best of luck to each athlete in his future endeavors.
MULTI-SPORT AWARD
View the List of Multi-Sport Lettermen for 2019-2020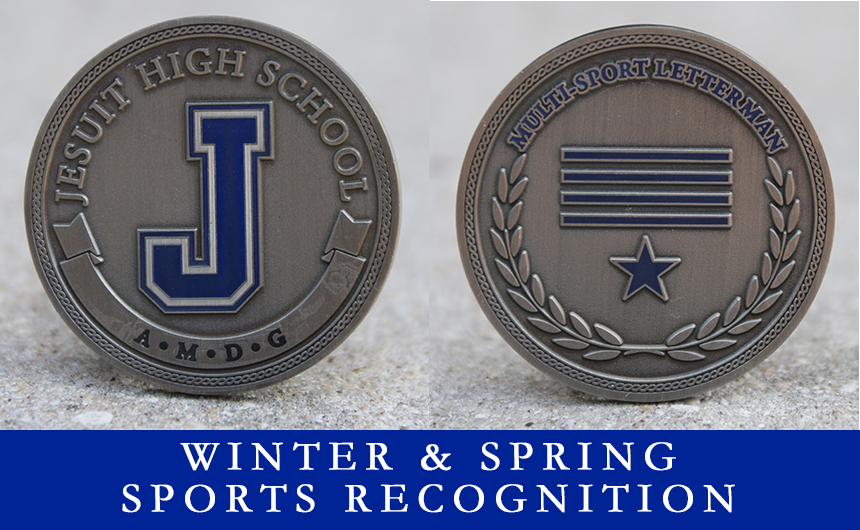 Jesuit continues its part to encourage, promote, and recognize multi-sport participation. Now concluding the 6th year of presenting the Jesuit High School Multi-Sport Award, Jesuit honors these young men who have lettered in two or more LHSAA sports. The award is an acknowledgement of the dedication and hard work of these multi-sport lettermen, especially during the summer when they are able to balance the demands of two or more sports. Underclassmen receive an award certificate while seniors receive an award certificate and an award coin. The coin's design is a reminder of Jesuit High School's rich history. Key moments from this history highlight Jesuit athletics' foundational principles, especially the full development of one's many gifts for the Greater Glory of God.
LHSAA ALL-ACADEMIC AWARD
View the List of LHSAA All-Academic Award Reciptients
The LHSAA All-Academic Award Program recognizes the academic excellence of senior student-athletes who have attained a 3.5 grade point average or higher by placing them on the Composite All-Academic Team or Class/Division All-Academic Team.
To earn Composite Team honors, a student-athlete's six-semester GPA must have an un-weighted 4.00. The Class/Division Team is composed of student-athletes with six-semester GPA of 3.5 – 3.999.
Jesuit principal Peter Kernion '90 said this about Jesuit's All-Academic Award reciptients: "I congratulate these Blue Jays for being named to the LHSAA all-academic team. This honor is a tribute to all of the hard work of these young men as they have excelled both in the classroom and on the playing field – something that is not easily done."