Spring Semester Flashback – Model UN Takes Manhattan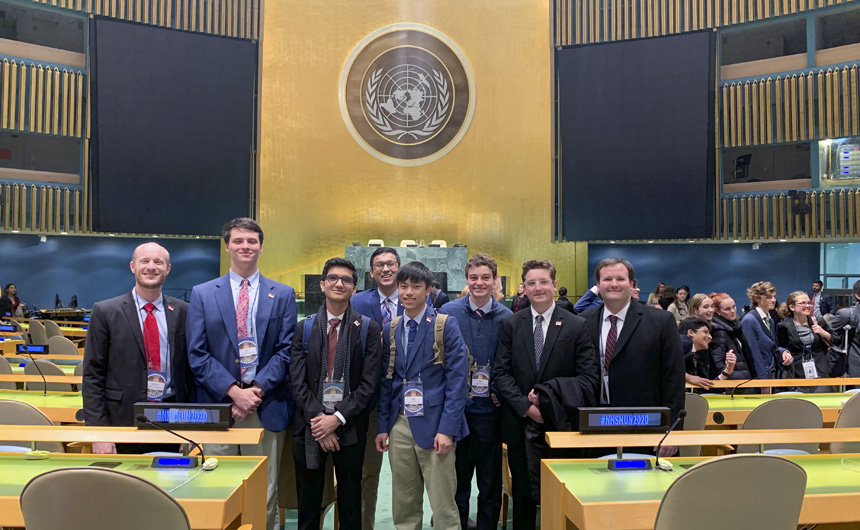 Early in the semester in February, six members of Jesuit's Model United Nations Team headed to New York City for the National High School Model United Nations conference (NHSMUN).
A popular co-curricular at high schools and universities around the world, Model UN is a debate competition in which students represent the official viewpoints of specific countries while trying to collaborate with other countries to develop and pass workable solutions to real-world problems.
Seniors Ryan Danna, Milan Mardia, Darren Tsang, Aqib Zakaria, and juniors Jackson Cheramie and Hunter Hoffmann together represented the Southeast Asian city-state of Singapore in several committees dealing with the issues of the illicit manufacturing and trafficking of firearms in Europe, the regulation of private military contractors, and the impact of livestock farming on climate change.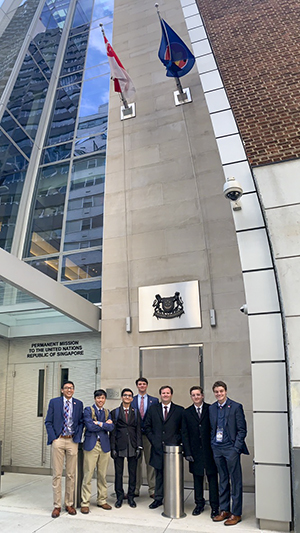 Before representing Singapore in their respective committees, the Blue Jays had the unique opportunity to visit with Singapore's actual UN delegation. They enjoyed hearing from Ms. Jophie Tang, Singapore's Deputy Permanent Representative to the UN, who spoke about her career and current work as a diplomat and answered the students' questions concerning issues like Singapore's response to COVID-19 and its relationship with the U.S. and China.
"Getting to meet with her was a highlight of the trip," said Zakaria, "it definitely influenced my decision to pursue a career in foreign policy because I got a better grasp of just how important the work that people like Ms. Tang do every day is for international relations."
Another highlight for the Blue Jays was getting to meet students from around the world. With over 2,000 participants, NHSMUN is the world's largest high school Model UN conference and well over half of the attendees came from outside of the United States. "In our committee alone, we had people from Turkey, Pakistan, Brazil, Ireland, and Italy," Danna noted, listing just a few of the over 60 countries the attendees hailed from.
While much of the trip was spent in committee meetings, the group still had the chance to enjoy the Big Apple. The members of the Model UN team not only got to see the headquarters of the UN, but they also sat in the General Assembly Hall where the opening ceremony was held. The trip included walking through Manhattan to see sights like Times Square and the September 11 Memorial and concluded with a nice dinner at the Singaporean restaurant Laut Singapura and a late night trip to the top of the Empire State Building to get a bird's eye view of "The City That Never Sleeps."
At the end of the conference, Jesuit's delegation won the Award of Merit, which "is given to schools that show an extremely strong performance across their committees." Formed just four years ago, this was the award-winning Model UN Team's first trip to a major, out-of-state conference. "It quickly became apparent when we started Model UN at Jesuit in 2016 that MUN isn't big in our region so we've been wanting to travel to one of the big conferences for years," said Mr. Wade Trosclair '07, who moderates the Model UN Team with fellow social studies teacher Mr. Charles Bourg '10. "Overall, this was a wonderful experience for our students that I hope we can build on in the future."