Alumnus Brady Stiller '16 Honored as Notre Dame Valedictorian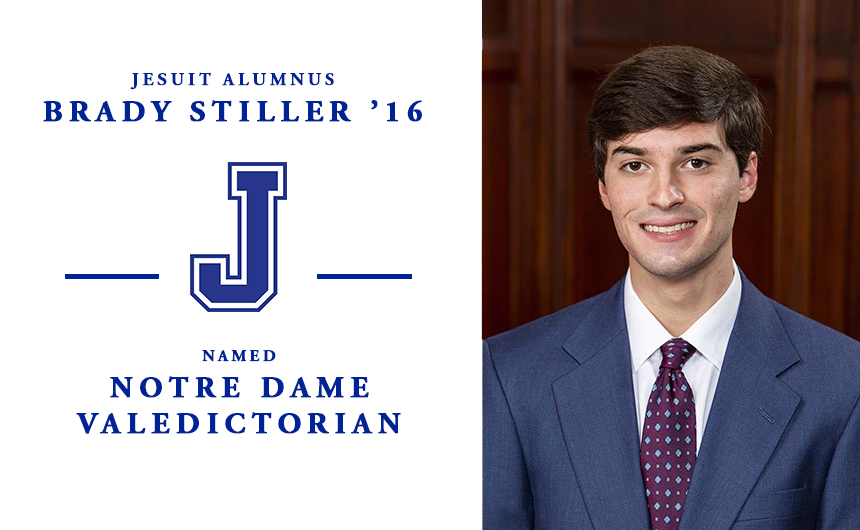 Jesuit alumnus Brady Stiller '16 has been named the valedictorian for the University of Notre Dame graduating class of 2020. Double majoring in biological sciences and theology, Stiller took full advantage of his collegiate experience through research, facilitating student discussions, and a variety of service activities.
Read More About Stiller's Notre Dame Experience and Honor
"Being the valedictorian at Notre Dame would have been impossible," Stiller said, "without my Jesuit education and the many influences on me there. I knew immediately when I was named that I would have to thank all of my teachers at Jesuit for setting me up for this. This recognition should honor all of the teachers who invest so much in their students.
"I think especially of all of the Jesuits who formed me into the man I am today, particularly spiritually. I was fortunate to visit the grave of Fr. Raymond Fitzgerald, S.J., in January. I know he is praying for me, and I hope he is proud of me.
"Jesuit prepared me perfectly to succeed at a part a place like Notre Dame. With an almost college level curriculum, Jesuit prepares its students for any challenge ahead of them. I am proud to represent Jesuit and Louisiana in this special way."
Congratulations go to this exemplary Blue Jay who is making his mark in the world as a man of faith and a man for others.