Jesuit Lends UV Disinfection Robot to East Jefferson Hospital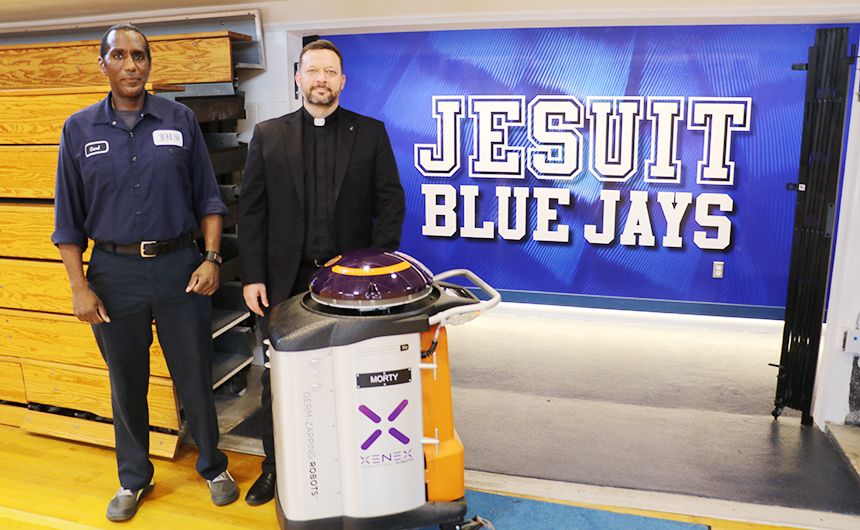 While students and faculty are working hard from home on classwork, Jesuit's germ-zapping robot, Morty, is working just as hard in the fight against coronavirus.
The school has lent Morty to East Jefferson General Hospital to disinfect rooms, allowing them to be turned over more quickly for new patients.
"I think in times like these, we have people that need our help," said Jesuit's interim president, Fr. John Brown, S.J. "Whenever we don't have students here, it seems like the right thing to do, to loan it to a place that could really use it."
Jesuit's team doctor, Dr. Charlie Haddad '91, who is vice-chair of the orthopedic department at East Jefferson, reached out to Jesuit about use of the robot. He confirmed East Jefferson's need with fellow alumnus Dr. Roland Waguespack '92, who is head of the hospital's emergency room. Two other UV robots in the ER were running around the clock to keep up with demand during the COVID-19 pandemic, Waguespack said.
See the full story at WWLTV.com
The Xenex Germ-Zapping Robot™ was donated to Jesuit in 2015 by alumnus Joe Authement '97. The robot has been effective in sanitizing athletic facilities to provide a safe environment for Blue Jays athletes to train.
he Xenex Full-Spectrum™ UV room disinfection system works by pulsing xenon, an inert gas, at a high intensity in a xenon ultraviolet flashlamp. This produces intense ultraviolet C (UVC) light which penetrates the cell walls of microorganisms, including bacteria, viruses, mold, fungus and spores. Their DNA is fused, rendering them unable to reproduce or mutate, effectively killing them on surfaces without contact or chemicals.
The robot is effective against even the most dangerous pathogens, including Clostridium difficile (C. diff), norovirus, influenza, Ebola, and methicillin-resistant Staphylococcus aureus, better known as MRSA. The robot disinfects in a five-minute cycle, so a single device is able to decontaminate 30-60 rooms per day.