Jesuit Readies for Home Learning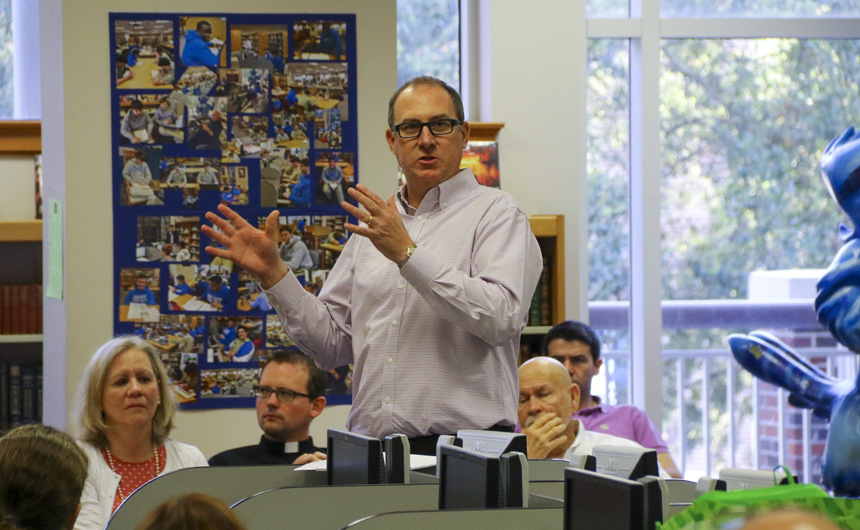 As Jesuit prepares for the beginning of classes through home learning on Wednesday, March 18, faculty and staff took time on Monday to finalize preparations and continue training in online instruction.
Read the Letter to Parents from Jesuit Principal Peter Kernion
Monday's faculty meeting began with words of encouragement from Jesuit's interim president, Fr. John Brown, S.J., and direction from Jesuit's principal, Peter Kernion '90.
"If you listen to people talk about their teenage years," Fr. Brown began, "they very rarely say, 'When I was a teenager…' Most of the time they say, 'When I was in high school…' High school frames their lives. Our students need to know that we care about the way they feel about their high school experience. They need to know that we care about their education."
Fr. Brown told faculty to view the next few weeks as a lesson in overcoming adversity, a lesson in perseverance. "Rise above it all. You know that the pedagogy you are used to in the classroom is not going to work the same way. Stretch yourself, extend yourself, figure out ways you can help learning happen for your students."
Peter Kernion '90, Jesuit's principal, echoed Fr. Brown's words. "We are going to have to be flexible. That was a term that was used a lot during Katrina. This is a great time to exercise compassion with our students. Just as many of you are going to be facing hardships, so are these families."
In regard to those hardships, Kernion continued, "I am very confident. If I had to go through this with any group of faculty, I know that the individuals in here are going to do this well because you are dedicated to doing what's right for the students."
Kernion then reviewed the plan for home learning and announced that the program will begin on Wednesday, March 18. He also related to faculty the 45 minute class schedule, with every day following a Day 1A schedule with time for a break and for lunch.
Faculty were then dismissed from the meeting to computer labs, where members of the technology department were on hand to further instruct faculty on the capabilities of the Canvas online learning platform. The school building also remained open on Monday for students to collect books from their lockers.