Tennis Shines in Mobile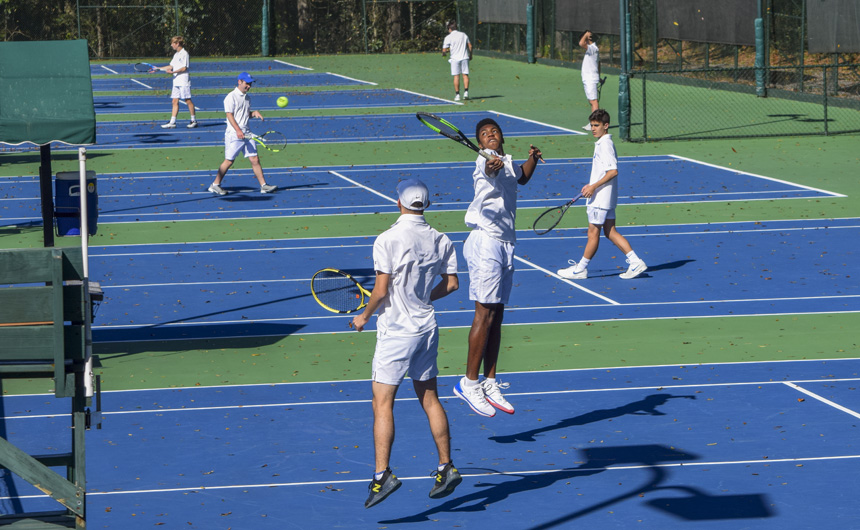 After opening the regular season with four straight dual meet wins the Jesuit tennis team took its show on the road in the first weekend of March, traveling to Mobile for the McGill-Toolen Invitational tournament. Forty teams from four different states converged on the Mobile Tennis Center for the two-day event.
View the McGill-Toolen Invitational Photo Gallery
Jesuit's A-team, consisting of six seniors (Jojo Sandoz, James Henican, Wes Melito, Pierce Westbrook, Sid Trouard, and Tom Levy) and two juniors (David Webster and Nick Crockens) advanced to the "Final Four" in the A-draw, where they dropped a hard-fought decision to defending LHSAA Division 1 champion Catholic of Baton Rouge.
Jesuit's B-team finished 16th overall. Competing for the B-team were James Bostick, Nicolas Kapusta, Reed Kronlage, Keating Landry, Luke Miller, Ethan Morgan, Daniel Poulin, and Luke Russo.
Jesuit's C-team finished 29th overall. Competing for the C-team were Connor Cain, Grayson Chanove, Brian Fish, Henry Guste, Jack Mann, Jonathan Morse, Caleb Walsh, and Alex Wink.
The Jays are off until March 24, when they return to the UNO courts for a dual meet with Newman. After that, it's on to the DecoTurf Nationals in Chattanooga on March 27 before returning for a district championship showdown with Brother Martin on April 2.