2020-21 Cheerleading Team Tryouts on March 12-13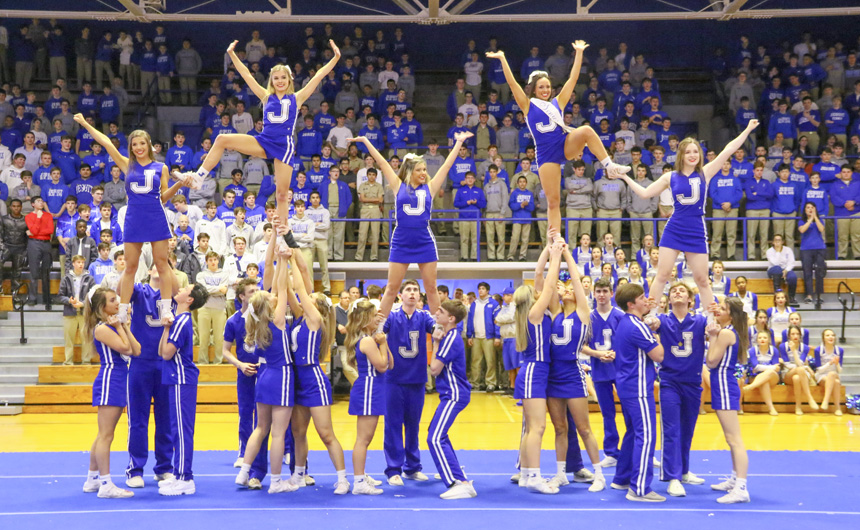 Tryouts for the 2020-2021 Jesuit Cheerleading Team are on Thursday and Friday, March 12 and 13, in the Gayle & Tom Benson Arena on Banks Street.
A clinic will be held on Thursday, March 12 from 5:00 PM – 8:00 PM. All material needed for the tryout will be taught during this time, including a cheer, a chant and a small dance routine.
The tryouts will be held on Friday, March 13 from 5:00 PM – 7:00 PM. *You MUST attend Thursday's clinic in order to tryout.*
Tryouts are open to anyone who will be attending an all-girls Catholic school in the 2020-21 school year and will be entering grades 8-12. Tryouts are designed for all cheerleader hopefuls as well as returning cheerleaders. The co-ed squad performs at basketball and football games, parades, school functions, and state cheering competitions.
Attire:
Please wear a full-length white shirt, modest athletic shorts, and tennis shoes.
Have ALL of your hair pulled back and out of your face. Hair must be in a high ponytail.
No jewelry (Medical ID Tags are permitted)
Bring:
Water
A copy of your most current report card
Location:
Jesuit High School, Benson Arena across Banks St. from the main campus at 4133 Banks St., New Orleans, La.
Tryouts Schedule
Registration – Thursday, March 12th at 5:00 PM
Clinic – Thursday, March 12th from 5:30 – 8:00 PM
Judging – Friday, March 13th from 5:00 – 7:00 PM
If you have any further questions, please contact the cheerleader moderator, Krista Roeling at (504) 483-3839 or head coach, Blaire Roeling at (985) 705-8492.