Junior Marcelo Torres Scores 36 on ACT®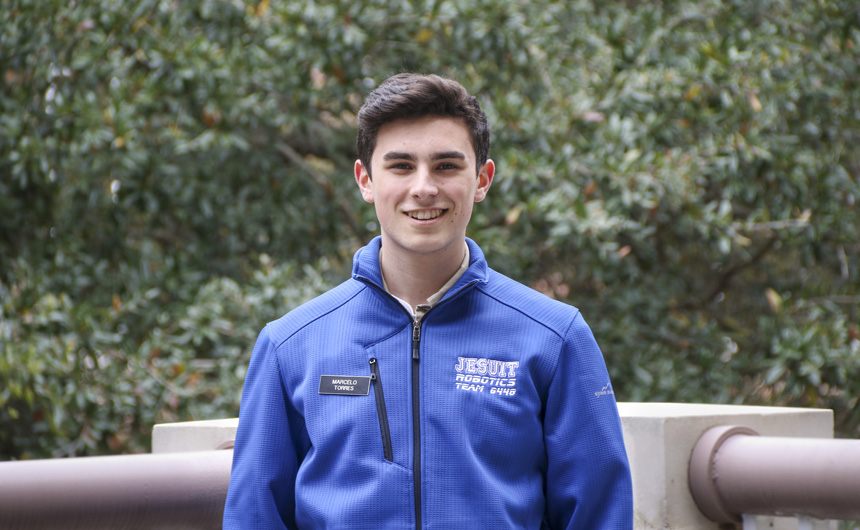 Marcelo Torres, a member of the Class of 2021, earned the highest possible composite score of 36 on the ACT® test he took in November 2019. Torres, who attended St. Martin's Episcopal before moving to Jesuit, is the son of Manuel and Kem Torres. He is the sixth current Jesuit student and first member of the Class of 2021 to report a score of 36 on the ACT.
At Jesuit, Torres is a member of the robotics team, National Honor Society, Model UN club, fencing club, and Mu Alpha Theta team. He also assists underclassmen in the academic support program by tutoring and teaching them study skills. For Model UN, he was recently named outstanding delegate at the YMCA state conference. His robotics team's 1st-place finish at state last year allowed them to compete in the world competition in Houston. Also last year, Torres's theta ciphering team won 1st place in the math bowl at the Mu Alpha Theta state convention.
Outside of Jesuit, Torres spends much time doing volunteer work with his church, All Saints Episcopal. He is a Sunday school teacher, an acolyte, and a bass singer in the choir. Also, Torres organizes his church's veteran's ministry, which gives supplies to veterans in the greater New Orleans area. The New Orleans Hispanic Heritage Foundation has twice honored Torres through the NOHHF scholarship program.
---
The ACT consists of tests in English, mathematics, reading and science, each scored on a scale of 1–36. A student's composite score is the average of the four test scores.
On average, less than one-tenth of 1 percent of students who take the ACT earn a top score. In the U.S. high school graduating class of 2018, only 3,741 out of nearly 1.9 million graduates who took the ACT earned a composite score of 36.