Jesuit Community Encouraged to Bear God's Image at Lenten Reflection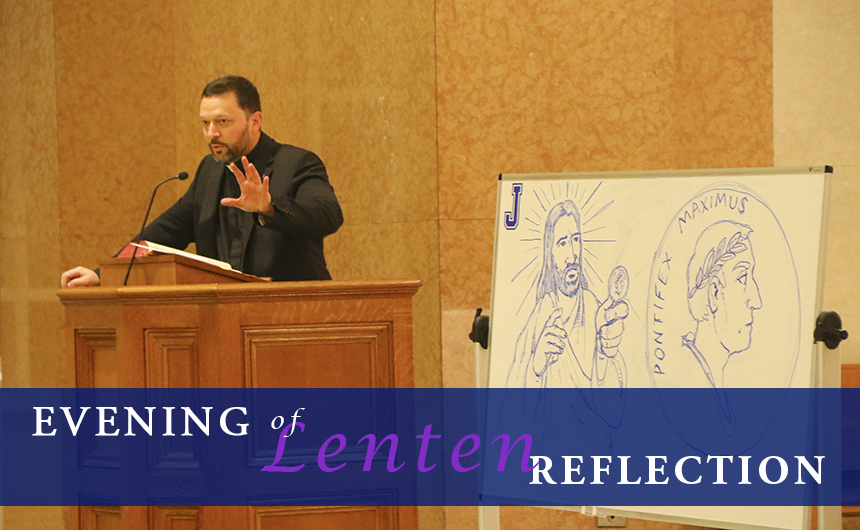 The Jesuits have a reputation for a clear and scholarly exposition of the Gospel. This draw many to Jesuit education. Thankfully the fruit of that Gospel reflection is available to more than just today's students.
Evening of Reflection events give alumni, friends, and parents of current and former students the opportunity as well for deeper encounter with the person of Jesus. On Tuesday, March 3, more than 150 attendees of the Evening of Lenten Reflection experienced that rich encounter in the Chapel of the North American Martrys.
View Photos of the Evening of Lenten Reflection
The featured speaker was Jesuit's interim president, Fr. John Brown, S.J., whose reflection on Jesus' teaching about paying taxes to Caesar in Matthew 22:15-22 revealed a powerful Lenten call to bear the image of God for the world.
"The truth of our salvation is that God does not save us from far away," Fr. Brown said. "He saves us by coming to us and bringing us back to Himself." Referencing the coin inscribed with Caesar's image and the words pontifex maximus, Fr. Brown recounted from the ancient world a tendency to elevate certain people as a false bridge between humanity and the divine. "God has provided for us the real bridge, the real ponifex maximus. And it is Christ Jesus." He closed his remarks reminding those gathered of their call to themselves be the bridge from God to the rest of the world, to be a priestly people by carrying the burdens of others, forgiving others, and offerings themselves for others.
The evening began at 6:30 p.m. with optional confession in the chapel, followed by Mass at 7:00 p.m. celebrated by Fr. Brown. After the reflection, participants took a guided walk through campus to view recent developments on their way to a social and refreshments in St. Ignatius Hall.