Jays Outlast Eagles in First Round Basketball Playoff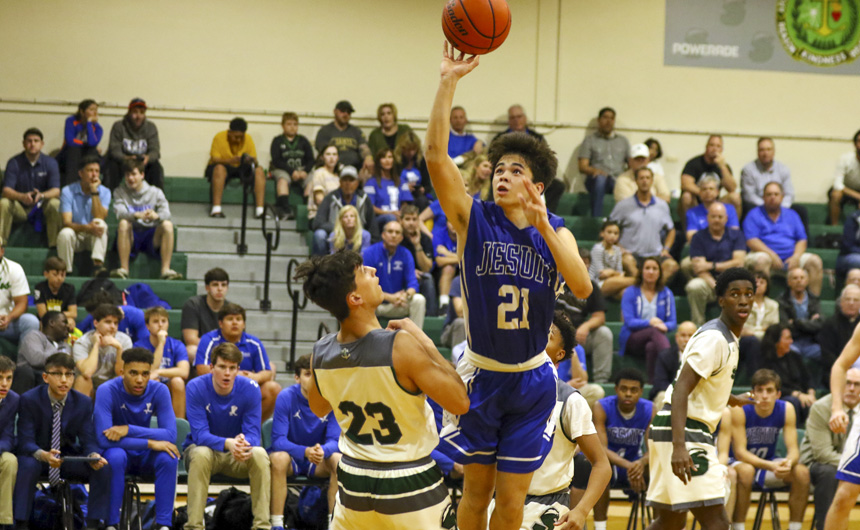 The Blue Jay basketball team advanced to next round of the state playoffs by defeating the Shaw Eagles 54-53 on Tuesday night. And one thing remains certain about the Jesuit-Shaw match-up this season: the competition has been fierce. The last time the two teams met, the contest took two overtimes to determine the victor.
View the Photo Gallery of the Jesuit vs. Shaw Playoff Basketball Game
On Tuesday night, the game thrilled fans with another exciting finish. After leading most of the game and forfeiting the lead in the final minutes, the Jays regained a one-point advantage with 26 seconds remaining. Enduring Shaw's last two attempt, the Jays earned the victory and, with it, a spot in the state quarterfinals.
Jack Lo led scorers for the Jays with 18 points, including 11 during the third period. Porter Lichtl also contributed double digits, scoring 17 points. Kyle Haupt added 9 points, and Matthew Knight 6.
The team will play at Scotlandville in the quarterfinal round of the state playoffs on Friday night with tip off set for 7:00. Admission is $10.00.
Read More…
NOLA.com – Matthew Knight, Luke LaForge lead late Jesuit rally to oust Shaw, 54-53