Two Blue Jays Earn Top Awards at Science & Engineering Fair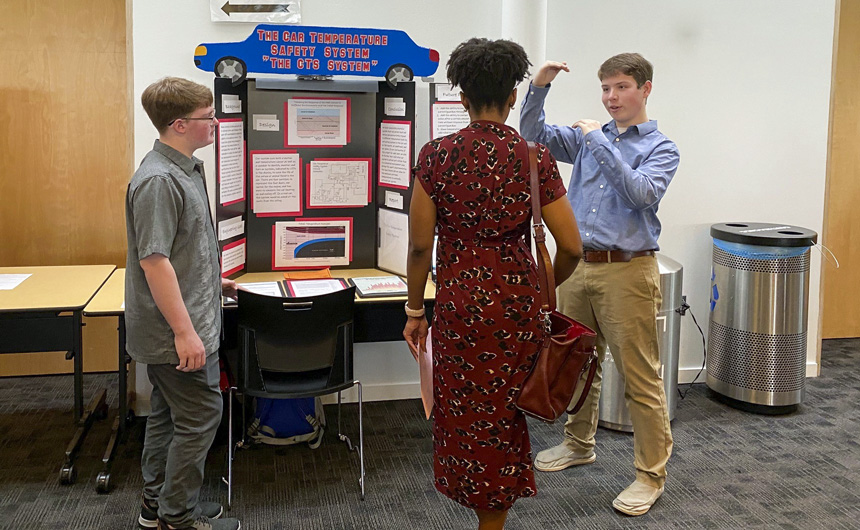 Dylan Bracey and Brett Steele received plenty of attention at the 2020 Greater New Orleans Science and Engineering Fair (GNOSEF) held on Feb. 10-13 at Tulane University. The two took home four awards for their project designed to prevent hot car deaths by using a thermal and a motion sensor to detect and sustain any potential life left within a car.
Bracey and Steele won 1st place in their category: Embedded Systems, Robotics, & Intelligent Machines. They also receive the 1st place designation for The American Institute of Aeronautics and Astronautics (AIAA) Award and the Neuroscience/Machine Learning Scholarship Award from Mr. H Britton Sanderford. Finally, the two won second place in the MENSA New Orleans Chapter Award.
The two Jesuit students will compete at the Louisiana Science and Engineering Fair in Baton Rouge in March.
Neuroscience/Machine Learnings Scholarship Award – 1st Place
The H. Britton Sanderford Neuroscience/Machine Learning Project Award recognizes excellent work in the field of neuroscience, the study of the molecular, cellular, developmental, structural, functional, evolutionary, computational, and medical aspects of the nervous system, and the field of machine learnings, a subfield of computer science and artificial intelligence that deals with the construction and study of systems that can learn from data, rather than follow only explicitly programmed instructions. The senior division winner is presented with a $2,000 college scholarship upon presentation of their acceptance letter into a college or university.
American Institute of Aeronautics and Astronautics Award – 1st Place
For the projects in categories that are most applicable to aerospace, the American Institute of Aeronautics and Astronautics (AIAA) selects a winner to receive a 1 year AIAA student membership.
MENSA (The High IQ Society) New Orleans Chapter – 2nd Place
Awards are presented for projects showing creativity backed by rigorous scientific reasoning.