Band, MCJROTC Parade Schedule + Endymion Parking Info
Be in That Number…When the Jays Go Marching In…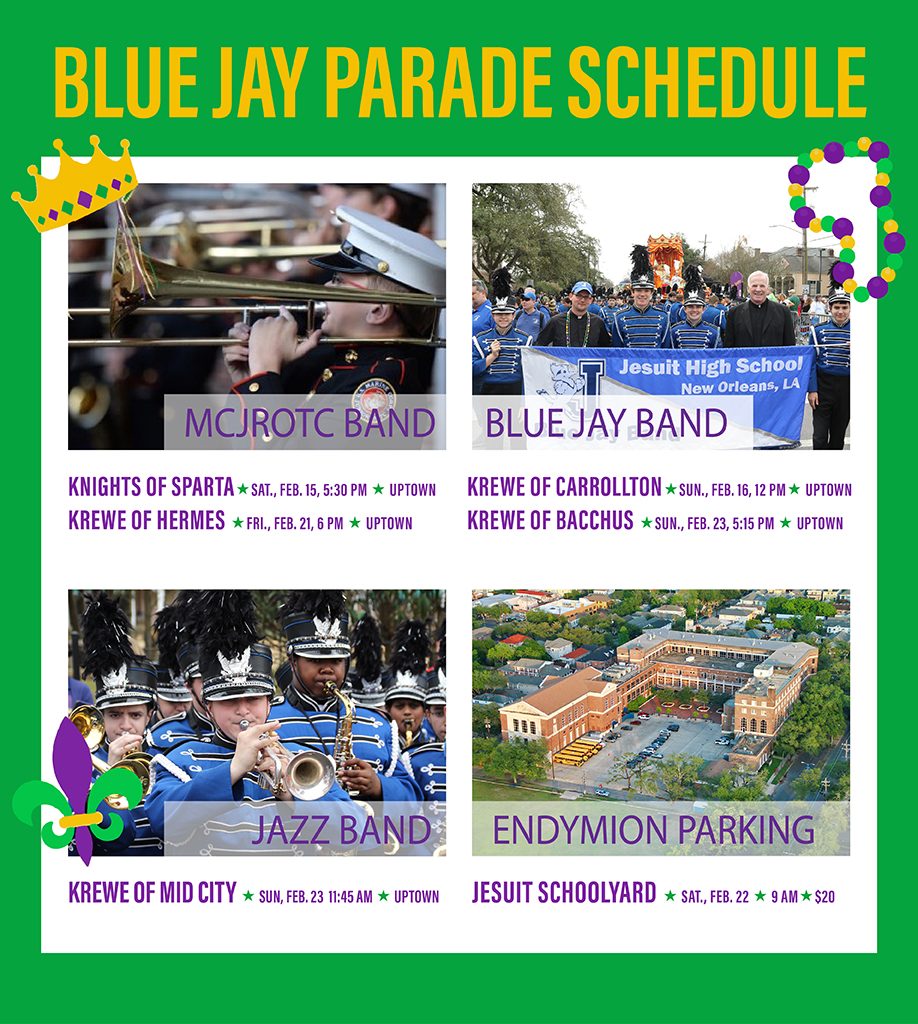 It's easy to spot the purple, green, and gold; and now it's just as easy to spot the Blue Jays!
Carnival is here, and the Blue Jay Jazz and Marching Bands are hitting the parade routes! Jesuit's own Marine Corps Junior ROTC band and color guard will be marching in the Knights of Sparta parade on Saturday, February 15 at 5:30 p.m. and the Krewe of Hermes parade on Friday, February 21 at 6 p.m., both along the uptown parade route. The jazz band will be performing on the Captain's band float in the Krewe of Mid City, rolling at 11:45 a.m. along the uptown parade route on Sunday, February 23. And of course, you can catch the marching band (including Jesuit's cheerleaders and Jayettes) in the Krewe of Carrollton parade on Sunday, February 16 at 12 p.m. along the uptown route and the Krewe of Bacchus parade, also rolling uptown at 5:15 p.m. on Sunday, February 23.
Remember, Jesuit will provide parking for the Endymion parade in Mid City on Saturday, February 22, for only $20. The parking lot opens at 9 a.m., and cars will be monitored by a security detail. Parking is on a first-come-first-serve basis, so there are no reserved spots. Portable restrooms will be available for paid customers. Proceeds from Endymion parking benefit Jesuit's Student Council.