Soccer Outlasts Central Lafourche, Advances to Quarterfinals
"You don't play for the number on the back of the shirt. You play for the name on the front," head soccer coach Hubie Collins told his team at halftime.
Following its first-round bye, the Jesuit soccer team played a regional round playoff match against Central Lafourche High School (CLHS) at John Ryan Stadium on Wednesday evening. Conditions at kick off were blustery with Jesuit playing into a strong breeze in the first half.
The Blue Jays were quickest to settle and pinned Central Lafourche in their own defensive 1/3 for the first 15 minutes of the contest. The CLHS defense held strong until some clever footwork by Noah Relan on the left wing allowed him the space to serve the ball into the opponent's box. The cross was met by Davis Laibe, who dispatched the ball past the goalkeeper at the near post.
Jesuit scored a second goal soon afterwards courtesy of Trevor Reichman, with Laibe providing the assist this time. The Blue Jays could have easily added two more quick goals if not for a couple of great saves by the Central Lafourche's goalkeeper.
As halftime approached the Blue Jays conceded a corner kick. The windy conditions saw the ball drop in front of the Jesuit goal. After some persistent work by the CLHS players, the ball found its way into the Jesuit goal. The scoreline was 2-1, Blue Jays, at the half. That was when Coach Collins inspired his team to play not for themselves, but for Jesuit.
Jesuit began the second half in a very similar fashion to the first half. After some good defensive work by the Jesuit forwards, a bouncing ball broke to Christopher Schmidt, about 30 yards from his opponent's goal. Schmidt's volleyed shot dipped over the CLHS goalkeeper's head and into the back of the net to extend Jesuit's lead to 3-1. Laibe scored his second goal moments later to seal the game at 4-1. Jesuit controlled the tempo of the match, but Central Lafourche's fighting spirit never waned until the final whistle.
Through the Lens…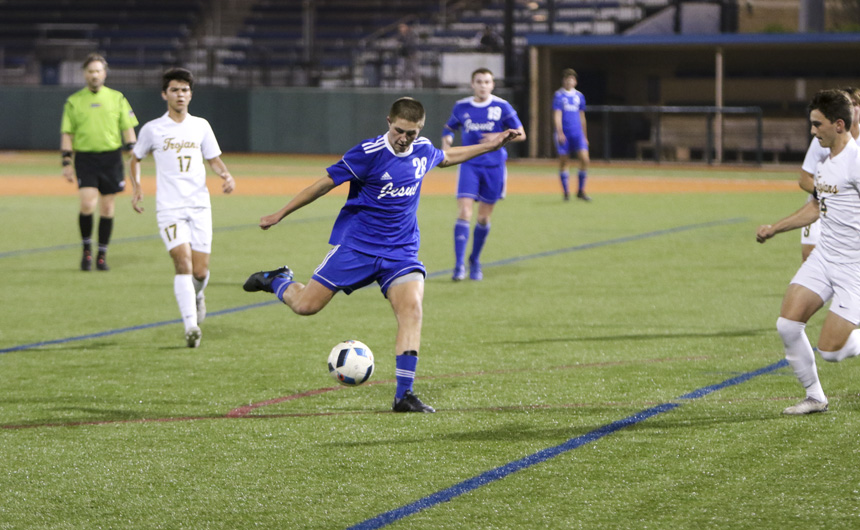 View the Photo Gallery from the Jesuit-C. Lafourche Soccer Game
By the Numbers…
Saves – 6 – Nick Pelias
Goals – 2 – Davis Laibe
Assists – 2 – Davis Laibe
In His Words…
"When we stick to the plan, play our game, and play as a team, we succeed. When we deviate from the game plan, we miss opportunities," Coach Collins added after the game.
On the Horizon…