Lax Jays Slash Past Strake, Sweep POW Awards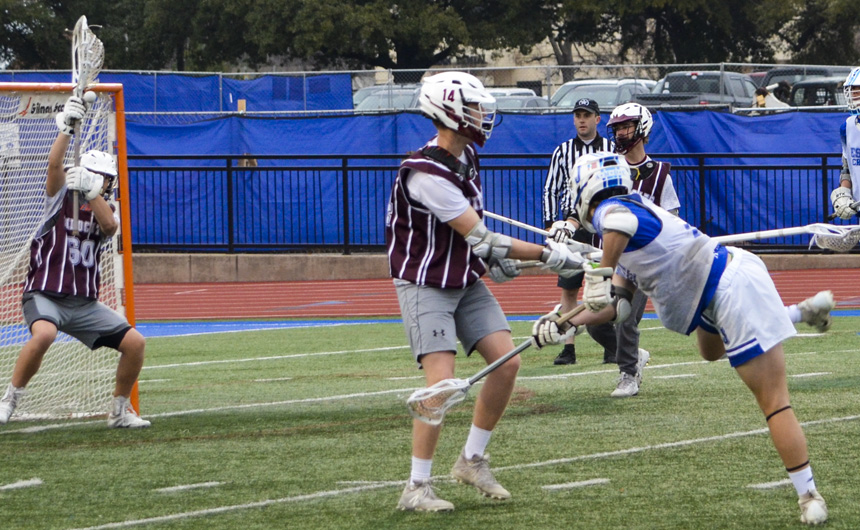 On February 8-9, the Jesuit varsity lacrosse team traveled to Houston to take on the Strake Jesuit Crusaders and the Bridgeland Bears in out of conference play. For some context, in 2017, Jesuit claimed victory over Strake in triple OT, but the Blue Jays were soundly defeated 15-1 in 2018. Last year saw the Jays beat Strake at home, 8-3. This year, on a beautiful day at Strake, your Blue Jays prevailed in a 5-4 thriller in double OT. Of note, junior attackman Andrew Brown had four goals (including the game winner off an assist from junior attackman Michael Yarborough). Senior midfield face off specialist Clark Romig scored the Blue Jay's other goal off an assist from junior middie Dickson Chamberlain, and won 9/12 face-offs, while leading the team in ground balls with seven, followed by junior midfielder Jack Unger, with six. Freshman goalie Ethan Lago came up huge in overtime, with a big game wining save.
On a dreary day on Sunday, the Blue Jays faced off with high expectations against an unfamiliar Bridgeland team. Unfortunately, turnovers and unforced errors plagued Jesuit throughout the day, and the Jays fell 14-9, after closing the contest to 10-8 in the third quarter. Senior long stick midfielder (LSM) Luke Powers was key on defense, with two big take-aways, numerous clears, and 5 ground balls.
For their performance in the previous week, Jesuit swept the Primo Lacrosse Offensive and Defensive Player of the Week honors. Romig and Powers won the awards for offense and defense, respectively. Click here for full story.
Next up: Jesuit v. Holy Cross 02/13/20 at 6:00 p.m. at Joe Yenni Stadium.