American Italian Sports HOF: Giavotella, Six Other Blue Jays Honored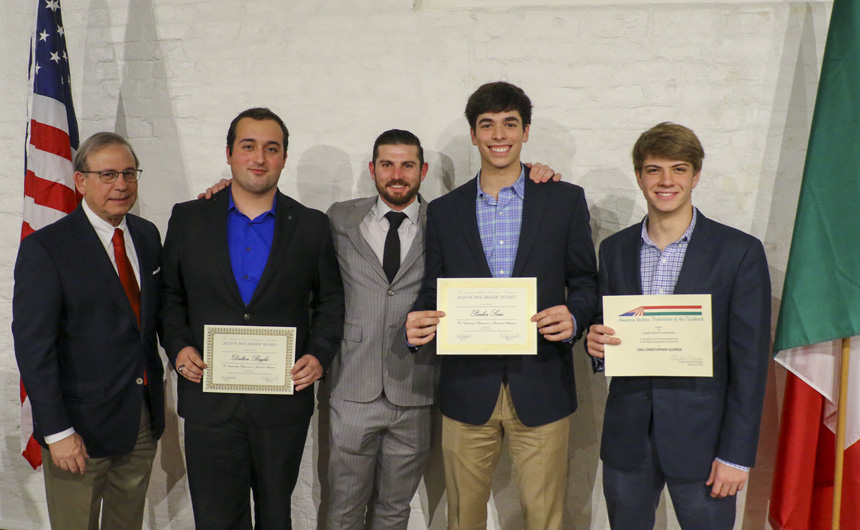 The brotherhood felt by and between Blue Jays spans across the decades and develops through time, connecting those from different—and similar—backgrounds and fields. Service on the battlefield, leadership in the medical field, and success on the athletic field brought four Jesuit alumni, three students, and a parent-coach together for a weekend of worthy celebration presented by the American Italian Cultural Center (AICC).
Among the nine inductees, six had Jesuit connections.
National Honoree: Johnny Giavotella '05
Louis Prima Arts & Entertainment Award: Nadja Salerno-Sonnenberg
Honorary Chairperson: Sam Scelfo, father of three Blue Jays (Dominic, Vincent, Anthony)
Local Inductees: Paul Stanton Jr. '12, Frank Scelfo (former coach, father of Anthony & Jordan Scelfo), Ray Culotta
Buddy "D" Media Award: Eric Asher
American Veteran Award: Vincent Liberto (posthumously), speech given by his brother Ignatius Liberto '80
Dr. John Adriani Medical Award: Dr. Brett Cascio '93
Among the eight scholarship recipients, three were Jesuit seniors.
Student Scholarship Winners from Jesuit: Dalton Baglio, Joel Guerra, and Parker Serio
One of the most decorated players in Jesuit and UNO baseball history, Johnny Giavotella, was the national honoree at the 35th Annual Louisiana American Italian Sports Hall of Fame Gala on Saturday, Jan. 25. This is the highest honor given by the AICC as Giavotella joins the halls with some of our nation's best athletes and coaches—John James "Fats" Dantonio, Joe Alleva, Paul Mainieri, and Joe Torre, just to name a few.