Basketball Looks to Rebound against St. Augustine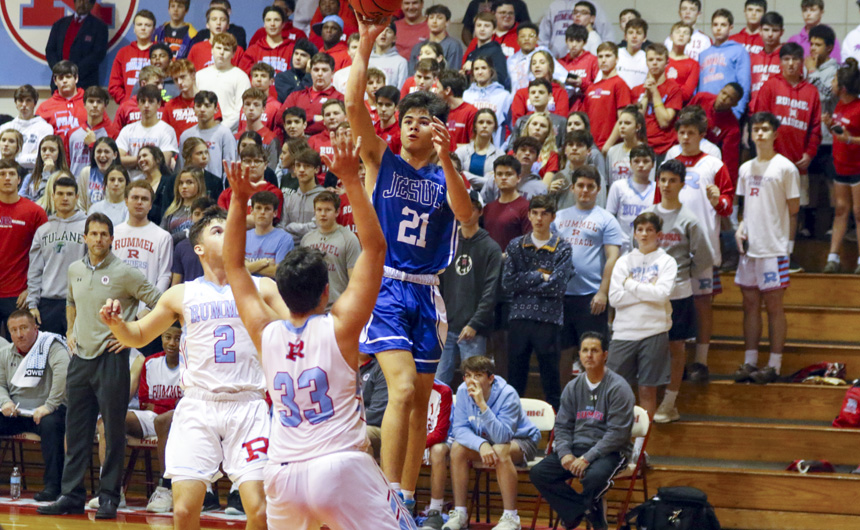 The Blue Jay basketball team will turn the corner to the second round of district play after a home-court battle with St. Augustine on Tuesday. The team has faced struggles in the first round, playing the last four games on the road and dropping games last week at Brother Martin and Rummel.
Follow @BlueJay_Hoops on Twitter to Follow In-Game Basketball Updates
Against Brother Martin, Patrick Lavie had the hot hand, making 3 of 7 from behind the arc and leading the Jays with 10 points. Kyle Haupt added 9 points in the effort, and Matthew Knight chipped in 6. The Jays started the game on the wrong foot, though, with a 14-point deficit at the end of the 1st quarter and never picked up the momentum to recover. The final score was 64-35.
On Friday against Rummel, freshman Jack Lo led the team with 11 points, and Christopher Gillen had 6. Gillen tallied his points with two 3-pointers in the 3rd quarter. Gillen's shot at the end of the 3rd and Lo's steal and layup at the beginning of the 4th inched the Jays to within 3 points of the lead, but Rummel pulled away with accuracy from the free throw line to take the victory 38-29.
The Jays are now 12-12 (1-4 in district) and host St. Augustine on Tuesday night at the Gayle & Tom Benson Arena. After that, perhaps a second look at the group of district opponents will be the fresh start that's needed to spark some wins for the Jays.