Fr. John Brown, S.J., Appointed as Jesuit's Interim President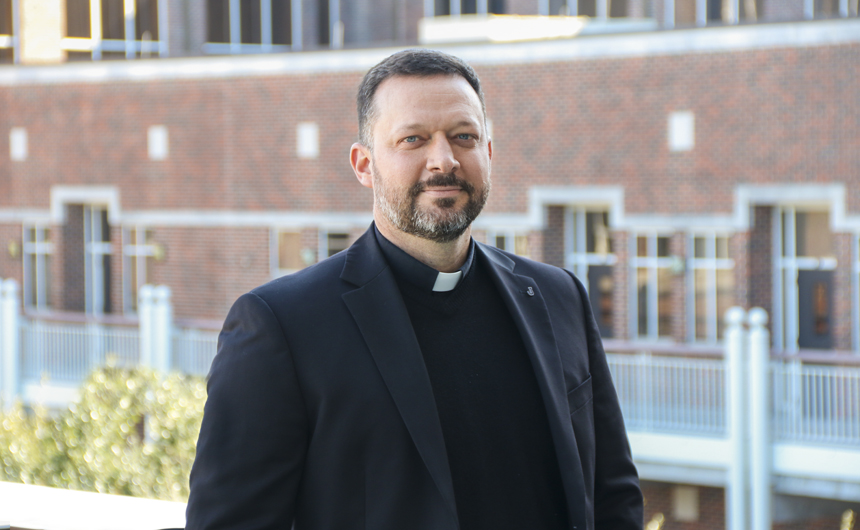 The board of directors of Jesuit High School announces the appointment of Rev. John Brown, S.J., to serve the school as interim president. Board chairman Brian North '83 made the announcement to school employees at the concluding Mass of Tuesday's faculty retreat.
"Building on the accomplishments of Rev. Christopher Fronk, S.J., his immediate predecessor, and other Jesuit presidents, we believe that Fr. Brown is in a strong position to lead Jesuit High School," North said. "Fr. Brown will be acting in full capacity as president during the interim period as the board performs the search for a permanent president. We extend our gratitude to Fr. Fronk for his tremendous accomplishments during his tenure and look forward to working with Fr. Brown as we continue to move the mission of Jesuit High School forward."
Fr. Brown's most recent assignment has been as the superior of the Jesuits living at Jesuit High School, which includes those assigned to Immaculate Conception Church on Baronne Street. In this role, Fr. Brown has worked with the High School Leadership Group, which includes presidents, principals, board chairmen, and superiors of the U.S. Central and Southern Province. He also serves on the board of directors at Cristo Rey Jesuit High School in Houston.
At the same time, Fr. Brown has been working in Jesuit's Office of Institutional Advancement as a major gifts officer, a position he has held since 2017. His work soliciting support for the Minds & Hearts Enlightened capital campaign, which has successfully secured $30 million for Jesuit's development, offered Fr. Brown the opportunity to build key relationships with alumni, parents, and friends of Jesuit.
"Nothing makes me happier than to serve at Jesuit High School," Fr. Brown said regarding his appointment. "I believe we have something very special here. Faculty and staff, coaches, benefactors, volunteers, and parents, are all on fire to educate these young men. Our students come to us from outstanding families, and together we bring these men up in the faith so that they will serve the Lord our God and the common good, really knowing themselves as men for others. I'm humbled to take on this new role and confident that Jesuit's future is as bright as ever."
Fr. Brown first joined the team at Jesuit in the fall of 2012, teaching theology, Spanish, and eventually initiating the art program, the first in Jesuit's history. In campus ministry, he directed the Metanoia retreat program and expanded the Sodality. Fr. Brown has also served on Jesuit's Ignatian Identity Team, enhancing the faculty in-service program and the mission-driven curriculum review.
The 2016-2017 school year saw an interlude in his service at the school to participate in the Jesuit Tertianship program in Dublin, Ireland. During that time, he also spent three months serving in a Jesuit Refugee Services school in Iraq as an Ignatian pedagogy consultant.
Originally from near Eunice, Louisiana, Fr. Brown worked as a project manager for web development firms in Houston and Denver before discerning a call to join the Jesuit order in 2000. He has taught at St. John's College in Belize and Jesuit High School in Tampa, FL, and has been assigned to parishes of the Society of Jesus in El Paso, Texas, and Tabasco, Mexico.
Fr. Brown holds a bachelor's degree in philosophy and letters from Saint Louis University. At Boston College, he earned a Master of Divinity degree and a second master's degree in theology focusing on Ignatian spirituality. He was ordained to the priesthood in 2011.