Basketball Clips Eagles in Overtime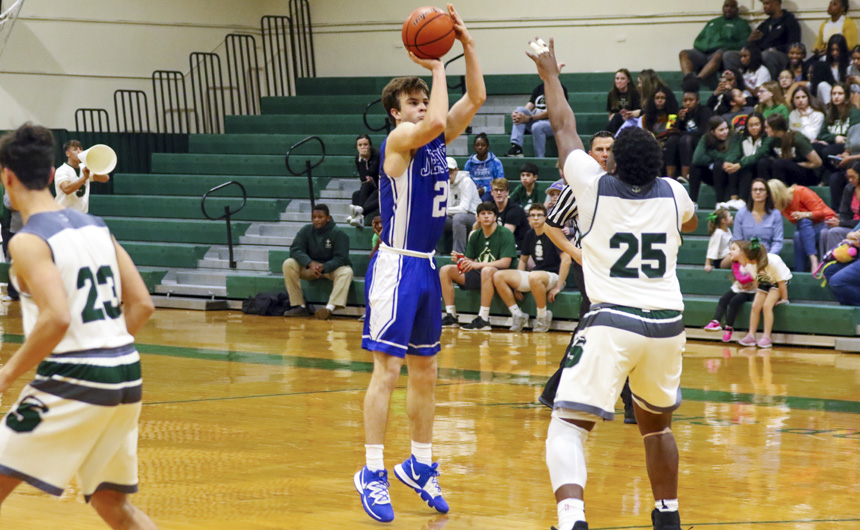 The Blue Jay basketball team secured their first district win on Friday, Jan. 18, in front of an energetic crowd at Archbishop Shaw High School. The Eagles came into the game with two district wins; the Blue Jays with two district losses. In the overtime, thriller, Jesuit pulled ahead to defeat the Eagles 51-48.
Follow the Jays on Twitter for In-Game Updates and the Latest News
The Blue Jays had an impressive night offensively, shooting 43% from behind the arc. Freshman Jack Lo drained back-to-back threes in the first quarter to send the Jays out in front, but Shaw quickly took control of the half to secure a 21-18 lead at halftime.
Junior Christopher Gillen started the second half with back-to-back threes of his own, and the Jays carried that momentum through the third quarter. The Eagles regained the lead early in the fourth and kept a one shot lead for most of the quarter until senior Kyle Haupt secured possession on the defensive end with a heroic dive that resulted in a timeout for Jesuit. On the resulting play, Haupt created a clean look from the corner and knocked down a game-tying three as the clock ran out to send the game to overtime.
In overtime, the Jays jumped ahead first and kept the lead with razor-sharp accuracy from the free throw line. In the 51-48 victory, Gillen led the charge with 15 points followed by Lo with 14 and Haupt with 10.
The Jays look for their next win in a district contest on Tuesday at Brother Martin at 7 p.m.
More News…