Basketball Loses Close Battle with Curtis in District Opener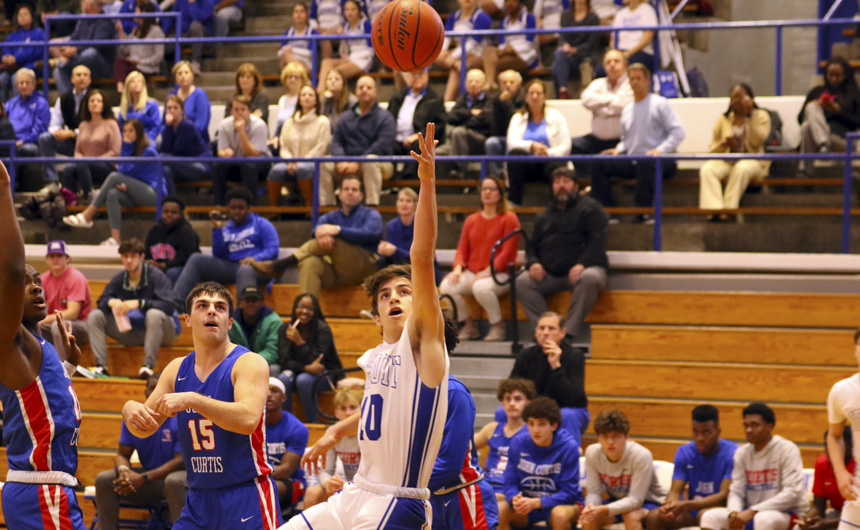 On Tuesday, January 7, the Jesuit basketball team opened district play by hosting John Curtis in the Gayle & Tom Benson Arena. The contest was a back-and-forth battle that the Jays eventually let slip out of their hands for a 44-47 loss.
Curtis jumped out ahead at the start, but the Jays clawed their way back to end the first quarter ahead by two points. Curtis rebounded in the second to swing the lead back in their favor by three points at halftime, only to have the Jays take their two point lead back at the end of the third.
Curtis took control in the fourth quarter, taking their largest lead at eight points (37-45) with one minute to play. Jesuit senior Kyle Haupt then led a mighty comeback with a rebound/put-back, then a short jumper in the lane, followed by a dagger 3-pointer. That final shot put the Jays within three points of Curtis with 22 ticks on the clock. In the topsy-turvy melee that ended the game, the Jays could not get the clean look they needed to send it to overtime and conceded defeat 44-47.
Haupt led all scorers with 18 points, followed by Porter Lichtl with 8 and Patrick Lavie with 7. Lichtl also tore down 9 rebounds.
The next district game for the Jays is at Holy Cross on Tuesday night. Tip-off against the Tigers is set for 7 p.m.