Fr. Christopher Fronk, S.J., to Step Down as Jesuit President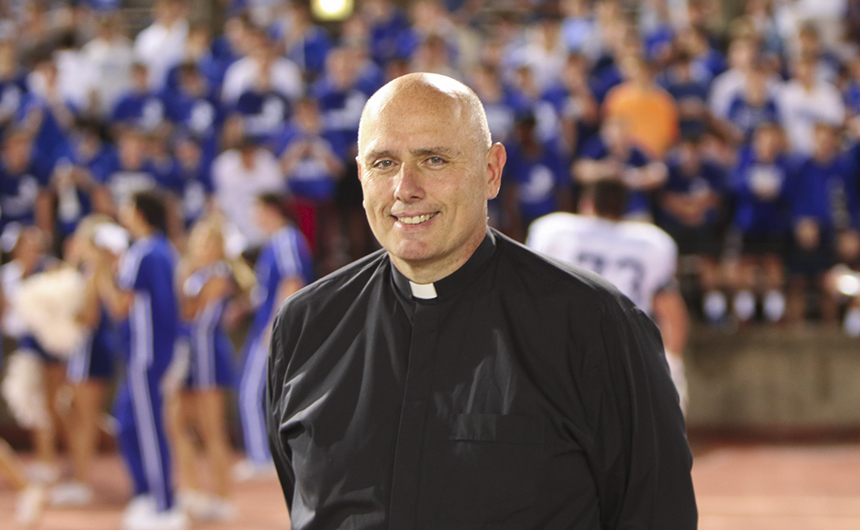 On Wednesday morning, January 8, Fr. Christopher Fronk, S.J., announced to the faculty and staff that he is stepping down as president of Jesuit High School, effective January 31, 2020.
Brian North '83, chairman of Jesuit's board of directors, praised Fr. Fronk's contribution to the school's growth by saying, "Jesuit has accomplished some extraordinary work over the past three years to move our mission forward. As the leader of these efforts, Fr. Fronk was the right person in the right place at the right time. We could not have asked more of him during his time with us, and we are extremely grateful for his service to Jesuit over the past three years.
"The most substantial job has been advancing the largest capital improvement effort in Jesuit's history, which will be funded by the largest capital campaign Jesuit has ever undertaken. The campaign reached its goal, and the capital improvements are ongoing. Fr. Fronk's leadership has been instrumental in both of these efforts. Having served a tour in Afghanistan and multiple trips to Iraq as a chaplain in the U.S. Navy, he is also a person who has faced issues head-on and was not afraid to tackle tough challenges. The school is in a strong and secure position due to his leadership."
Fr. Fronk addressed school employees at Wednesday morning's faculty meeting. He began by praising the faculty and staff for their daily good work and thanking them for the many ways that their support has helped Jesuit strengthen and secure its future through the Minds & Hearts Enlightened capital campaign.
He then detailed the incredible progress Jesuit has made in the last three years. Every classroom on campus has been renovated, and the gym has been transformed into the Gayle & Tom Benson Arena. The endowment has grown by more than $5 million, ensuring the school's commitment to affordability and financial assistance. The future still holds exciting developments in installing a pedestrian walkway, constructing the new administrative building, and renovating the 1926 wing of the school.
Fr. Fronk then announced his decision to step down as president so that a new leader can guide Jesuit through the next stage of its development. Fr. Fronk will continue as president until January 31, and a process is under way to appoint an interim leader and to begin a search for Jesuit's next president. He concluded by offering his personal thanks to all school employees for their support and good work in the classroom, which ensures that the future of Jesuit remains as bright as ever.