In Full Swing, Wrestling to Host Jesuit Invitational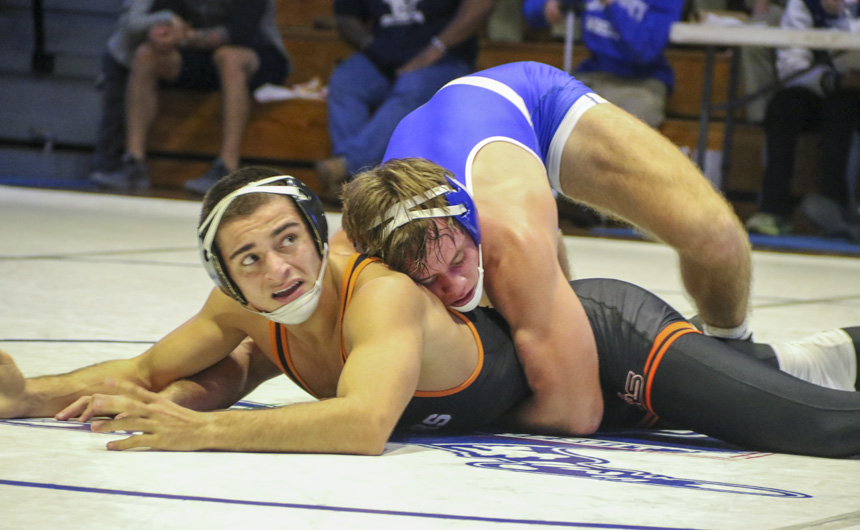 No wrestling team is more excited about this weekend than the Jesuit Blue Jays. The grappling Jays take on their home tournament, the Jesuit Invitational, on Saturday, Dec. 14, in the Gayle & Tom Benson Arena. Teams from around the state will travel to Carrollton and Banks to compete in the one-day event, and head wrestling coach Sheridan Moran knows this event and those to come will be a grind.
"Christmas break is always a grind. It's the time to test our metal," said Coach Moran. "And for me, January is the funnest part of the year. You get to see your wrestlers peak because they will be in top condition and well-trained for the homestretch."
Following the Jesuit Invitational, wrestlers will spend part of their Christmas break in two tournaments, Brother Martin's Trey Culotta Tournament and the Prep Slam in Atlanta. Then, upon returning to school for the second semester, the Jays will sprawl right into the district dual season.
"With only four returning starters, I'm excited about us getting better every day and every match. Our guys are buying in, and that mentality is going to make a difference in the long run." The four returning starters are Joseph Rosevally, Luke Battaglia, Charlie Cyrus, and Mason Murret. Cyrus and fellow senior Eddie Blakemore are this year's team captains.
A good performance at the Jesuit Invitational will be a huge morale boost for the 2019-20 Blue Jay wrestling team.
Visit the Jesuit Wrestling Page for the 2019-2020 season schedule and roster.