Fresh Faces Take the Court for 2019-2020 Basketball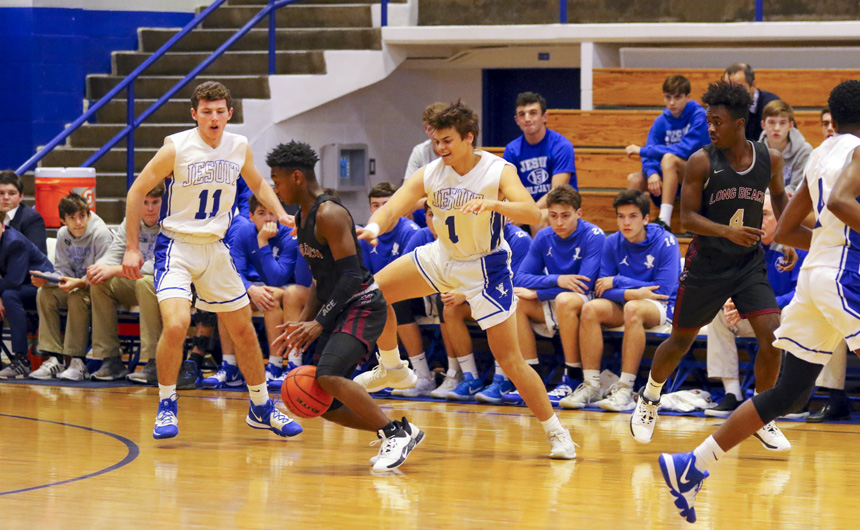 The 2019-2020 Jesuit basketball campaign is underway, and many in this year's crop of players will be seeing serious varsity minutes for the first time.
Aside from seniors Kyle Haupt and Myles Gordon, Blue Jay players are all fresh faces, and all making an impact in a balanced scoring approach through Jesuit's distinctive motion offense.
Visit the Jesuit Basketball Page for the 2019-2020 season schedule and roster of varsity players.
At this weekend's CYO tournament, the Jays almost did enough to earn themselves the nickname "the come-back kids." Going 1-2 in the tournament, each of the losses saw a determined squad of Jays clawing their way back into the competition in the final quarter, but just not quite clawing far enough for the win.
In almost identical scores, Jesuit fell to Central Lafourche, 50-46, and Northshore, 50-47. They certainly did not go down without a fight, narrowing the lead in each game with tenacity and hustle. The Jays win in the tournament came in a scoring explosion against Long Beach, 89-41. In that win, five players scored double-digits for the Blue Jays.
Haupt led the charge on offense for the weekend with a total of 33 points in three games, followed by juniors Luke Laforge with 28 and Christopher Gillen and Porter Lichtl each with 27. The Jays are now 4-3 on the season.
Catch the Jays in action at the Newman Invitational Tournament on Dec. 11-14.