Advent Reflection Inspires Jesuit Community to Keep Christ in Christmas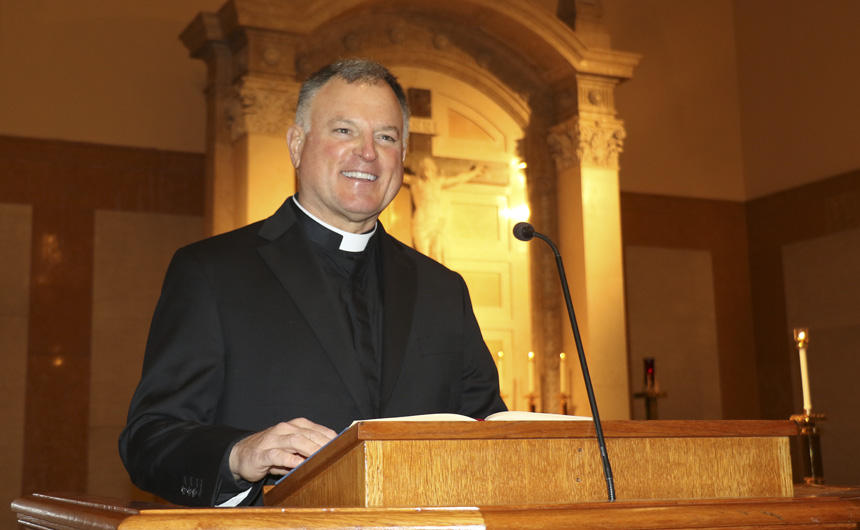 Christmas brings out one's childhood nostalgia, Fr. Penn Dawson, S.J. explained, before he said, "Unlike when I was a child, the period of preparation that we call Advent is now for me as important as celebrating the nativity itself, for Advent holds out that hope that is present in the incarnation…the hope of seeing the transcendent God face to face."
Indeed, "The Incarnation: Seeing the Transcendent God Face to Face" was the topic for the 2019 Evening of Advent Reflection presented by Fr. Dawson, held on Tuesday, December 3, in the Chapel of the North American Martyrs. The reflection focused on the mystery of God's incarnation and the transformative power of God's revelation to His people.
As Fr. Dawson noted, the great 20th century philosopher G.K. Chesterton expressed a similar attitude when he said that he enjoyed Christmas more as an adult than as a child because the fun of Christmas is founded in the seriousness of Christmas.
"For most people in our culture today, however, I suspect that Christmas is all about the fun. If any hope or seriousness is found between Thanksgiving and New Year's Day, it is in the way one tackles the season's many material demands—the shopping, cooking, entertaining."
"As long as Christmas is celebrated, even imperfectly, the hope of Advent remains." Dawson backed this belief in the hope of Advent with another point from Chesterton, "The majority of people will go on observing forms that they cannot explain, they will keep Christmas Day with Christmas gifts and benedictions, they will continue to do it, and some day, they will suddenly wake up to discover why."
View the Photo Gallery from the 2019 Evening of Advent Reflection
In closing his talk, Fr. Dawson challenged the Jesuit community present in the congregation to reconnect society with the Christian story, to live out the phrase, "Keep Christ in Christmas," rather than allowing it to become simply a billboard slogan.
Jesuit would not be what it is today without Paul Schott.

– Fr. Anthony McGinn, S.J.
After the inspiring presentation guests enjoyed a guided tour through the 2nd floor, led by alumni director Michael Prados '83, to see a glimpse of the many classroom upgrades on the way to a reception in St. Ignatius Hall.
Jesuit's Evenings of Reflection are open to alumni and their guests, all current parents, parents of alumni, and friends. Members of all three groups were present at the 2019 Advent Reflection, one full of positive messages and opportunities to connect with others.