Football Advances to Quarterfinals After Shutting Out Shaw, 33-0
Head football coach Mark Songy has a 24-hour celebration rule. That means, on Thursday night around 10:00 p.m., after Jesuit won 33-0 against Shaw in the opening round of the LHSAA playoffs, the Blue Jays had a school day plus a few more hours to enjoy the shutout victory. By Saturday morning Shaw was out of their system, and preparation for John Curtis had begun.
View the 2019 LHSAA Football Playoff Bracket – DIVISION I
Within the 24-hour celebration period, the Jays had a ton of things to be proud of—419 yards of total offense, spreading the ball around, converting field goals, five defensive turnovers, and limiting the opponent to 13 yards of total offense—just to name a few.
"The Lukes" (Luke LaForge and Luke Besh) struck again by catching a touchdown each from Grant Jordan from 31 and 21 yards out, respectively. They weren't the only positional duo to find the end zone, though, as tailbacks Jalen Williams and Rader Jackson each had short touchdown runs.
Defensive back Austin Robert led Blue Jay "No-Fly Zone" with two interceptions. Defensive lineman Ethan Branch and defensive backs Joseph Flores and Jack Stuke each added one pick. Robert's second interception sealed the shutout.
Through the Lens…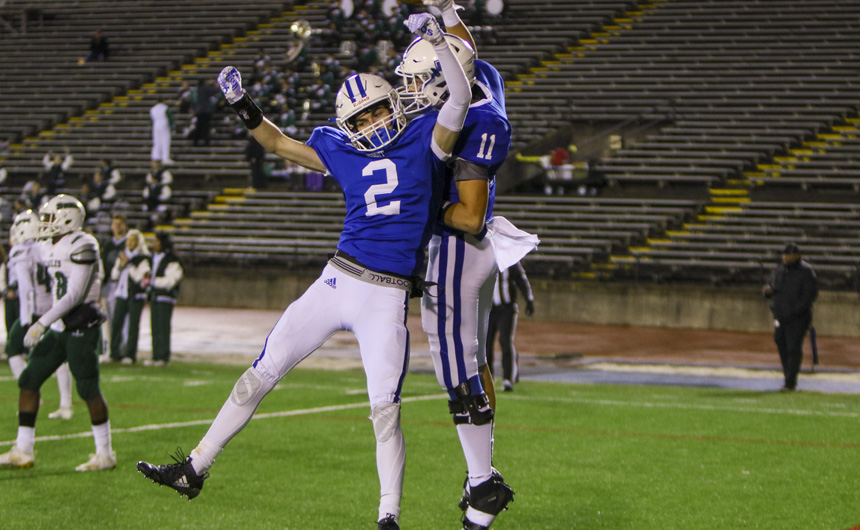 View the Photo Gallery from the Jesuit vs. Shaw Football Game
By the Numbers…
Category, SHW – JES
First downs 7 16
Rushing 0 233
Passing 13 186
Total offense 13 419
Passes 10-27-5 14-27-0
Punts 6-26.2 3-25.7
Fumbles/lost 2-0 1-1
Penalties 7-71 13-167
SCORING:
J: Aidan Corbello 26-yard field goal.
J: Luke LaForge 31-yard pass from Grant Jordan (Aidan Corbello kick).
J: Jalen Williams 3-yard run (Aidan Corbello kick).
J: Aidan Corbello 24-yard field goal.
J: Luke Besh 21-yard pass from Grant Jordan (Aidan Corbello kick).
J: Rader Jackson 2-yard run (Kick failed).
In His Words…
"I think Shaw got better as a football team," Coach Songy said. "At times we did not play well, offensively, but our defense played great. We still have a lot of work to do, 24-hour celebration rule, and then we'll look at the good and the bad from this game. And we'll be ready to play Curtis on Friday."
On the Horizon…
The varsity football team will face John Curtis in the quarterfinal round of the state playoffs on Friday night at Hoss Memtsas Stadium with kickoff set for 7:00 p.m. Pre-sale tickets are $8.00 each for adults, students and children (ages 6-11). Pre-sale tickets are available for purchase at the switchboard Tuesday through Friday of this week from 7:45 a.m.-3:30 p.m. All tickets purchased at the gate are $10.00 each. Note that both student ID's and season passes are not accepted at the gate for LHSAA playoff contests.
View the 2019 LHSAA Football Playoff Bracket – DIVISION I
Read More…
NOLA.com | Jesuit dominates Shaw in 33-0 Division I football playoff victory