Blue Jays Reminded of Their Roots at Annual Mother-Son Event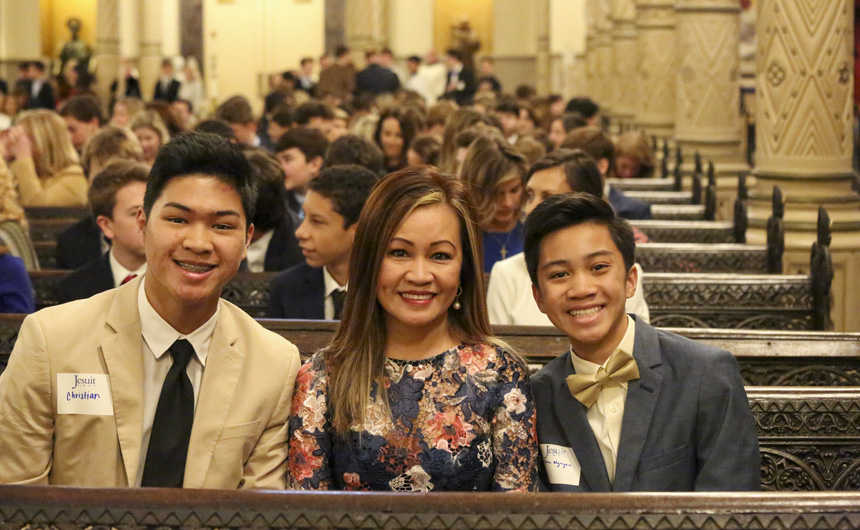 Hundreds of Blue Jays spent the morning of Saturday, Nov. 9, solidifying their relationships with their mothers at Jesuit's 2019 Mother-Son Mass & Breakfast.
The morning began with Mass at Immaculate Conception Jesuit Church (ICJC) on Baronne Street, which was celebrated by Jesuit superior Fr. John Brown, S.J., and concelebrated by Jesuit president Fr. Chris Fronk, S.J., chaplain Fr. Kevin Dyer, S.J., and alumni chaplain Fr. Paul Shaughnessy, S.J. In his homily, Fr. Brown reminded attendees that Baronne Street is considered the original home of Jesuit education in New Orleans.
After Mass, Blue Jays and their mothers walked across the street to enjoy a delicious breakfast in the Crescent City Ballroom at The Roosevelt Hotel. The menu included coffee and juice, pastries, yogurt with fresh berries and granola, and scrambled eggs and bacon.
After breakfast Jesuit's director of institutional advancement Tom Bagwill then introduced seniors Chance McGee and Connor Quaglino, who honored their mothers through reflections of the positive impact they have made in their lives. For the third year in a row, a member of the faculty or staff also surprised his mother by honoring her in front of today's students and moms. Alumni & social media coordinator Jack Culotta, Jr. '13 presented this year, following guidance counselor Justin Genovese '04 and chaplain Fr. Kevin Dyer, S.J., who spoke in 2017 and 2018, respectively.
Watch the Video of the Address by Chance McGee '20
Watch the Video of the Address by Connor Quaglino '20
Watch the Video of the Address by Mr. Jack Culotta, Jr. '13
In his closing remarks, Mr. Bagwill made a great point about building mother-son relationships, or in some cases, starting fresh.
"A few years ago, one of the students we asked to speak explained how he didn't have the world's greatest relationship with his mom. I said, 'That's great.' And I say that to you because, if you don't have a perfect mother-son relationship, no one does. So this is a great day to start building, as Father Brown said in his homily, 'brick by brick,' to make it even stronger."
no images were found
Jesuit offers its thanks to Fr. Anthony McGinn '66 and the parishioners of ICJC for their warm welcome and to all those who participated in this annual meaningful event of connection. We also thank the choir, directed by Mr. Jeremy Reuther '01 and Mr. Scott Delatte '06, who provided music for the Eucharistic celebration.
Jesuit is "alma mater" to every young man who walks the halls at Carrollton and Banks. The characterization of Jesuit High School as "dear mother" is founded upon the partnership between the school and the parents of each student. This teamwork in raising men of faith and men for others enables students to become leaders for the community and world. The annual mother-son event on Baronne Street not only reminds Blue Jays where they come from, but also whom they come from.
Photos courtesy of Loupe Photography