Jays Drop Final Game to Rummel, Face Shaw in Playoff Opener
The Jesuit High School football team took a 27-0 loss to Rummel, the undefeated District 9-5A champions, on Friday night at Tad Gormley Stadium. Despite the loss, the Blue Jays (6-4, 3-3) have much to be proud of, ending their season above .500 with a 60 percent overall win rate.
View the 2019 LHSAA Football Playoff Bracket – DIVISION I
Momentum was everything as the Jays could not convert on fourth down in any of their trips to the red zone. No one can know how the game would have played out if Jesuit was able to score on the game's exciting opening drive that was eventually stopped short at the 25-yard line. The drive was kept alive due to some trickery by head coach Mark Songy and special teams coach Kurt Werling '91, who called a fake punt flip play from punter John Gunaldo to linebacker Dennis Dougherty (Watch). The play was executed perfectly and brought the Jays from their own 42-yard line to Rummel's 42. Understanding the talent that Rummel has on both sides of the ball, Jesuit elected to go for a touchdown rather than kick a long field goal into the wind. For Jesuit, the half saw two drives reach field-goal range but ending with no points. Rummel scored twice in a 1-minute span, on a passing touchdown followed by a pick-six, to lead 14-0 at the horn.
By the end of the game, Rummel (10-0, 6-0) scored two defensive touchdowns while Jesuit went 0-for-4 on red zone trips. The Raiders proved why they have, without question, the best defense in the Catholic League. Seeded 6th in the upcoming LHSAA playoffs, Jesuit's only chance of seeing No. 1 Rummel again is if both teams reach the championship.
Through the Lens…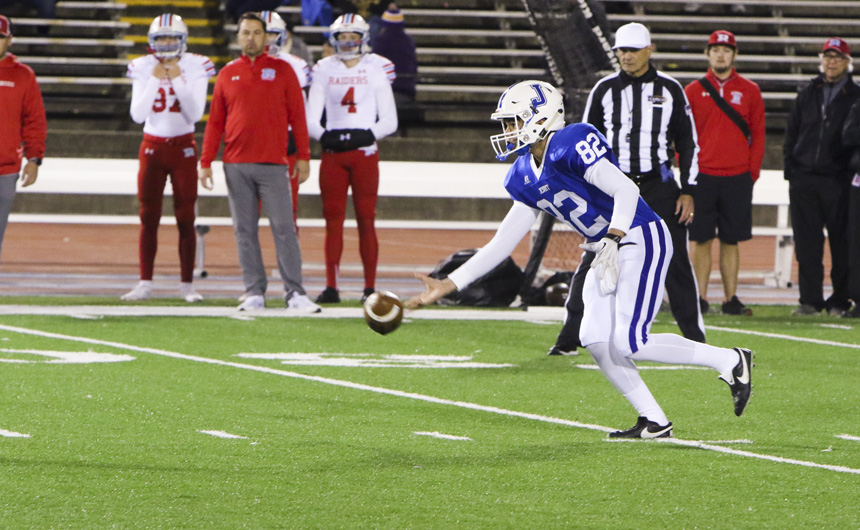 View the Photo Gallery from the Pre-Game Senior Night Ceremony!

View the Photo Gallery from the Jesuit vs. Rummel Football Game
By the Numbers…
Season Stats (Offense)
Passing:
Grant Jordan 141 – 266 – 9 int 1861 14td
Rushing:
Rader Jackson 122 – 380 2td
Grant Jordan 137 – 444 10td
Receiving:
Luke Besh 50 – 630 7td
Luke Laforge 48 – 595 4td
Grant Moreau 20 – 251 1td
Kicking:
Aiden Corbello 21/24 PAT 6 /9 (30, 23, 30, 41, 29, 29)
Scoring Summary:
R – TOUCHDOWN – Wickersham 14 yard PASS to Robertson (Vanderbrook kick GOOD)
R – TOUCHDOWN – Fields 17 yard INTERCEPTION return (Vanderbrook kick GOOD)
R – FIELD GOAL – Vanderbrook kick for 19 yards GOOD
R – FIELD GOAL – Vanderbrook kick for 29 yards GOOD
R – TOUCHDOWN – Woodrey 31 yard INTERCEPTION return (Vanderbrook kick GOOD)
In His Words…
"I think we're fairly healthy, and we'll bounce back," head coach Mark Songy said when asked how he feels heading into the playoffs. "This is a resilient group. We've been playing some great football. We just made too many mistakes against a great, well-talented team."
On the Horizon…
The varsity football team will host Archbishop Shaw in the first round of the state playoffs on Thursday night at Tad Gormley Stadium with kickoff set for 6:00 p.m. Pre-sale tickets are $7.00 each for adults, students, and children (ages 6-11). Pre-sale tickets will be available for purchase at the switchboard from 7:45-3:45 Tuesday through Thursday. All tickets purchased at the gate are $9.00 each. Note that both student ID's and season passes are not accepted at the gate for LHSAA playoff contests.
View the 2019 LHSAA Football Playoff Bracket – DIVISION I
Read More…
NOLA.com | Rummel defense pitches another shutout, scores 2 TDs in win against Jesuit