Football Hands Hahnville First Loss, 24-14
From a timing standpoint, it was "the biggest win of the year for us," Jesuit head football coach Mark Songy said Friday night in Boutte, La., after the Blue Jays handed Hahnville its first loss of the season. Jesuit's 24-14 road win increases excitement for Senior Night on Friday, Nov. 8, when the Jays face the undefeated Rummel Raiders at Tad Gormley. Rummel (9-0, 5-0), who just clinched a share of the District 9-5A title, will be Jesuit's third state-ranked opponent in the past four weeks.
Senior quarterback Grant Jordan went 4-for-4 on the opening drive that covered 52 yards in seven plays, and he didn't need to use his legs to find the end zone. Rather, running back Radar Jackson earned himself a key highlight by running 18 yards up the middle for the game's opening score. On the next possession, kicker Aidan Corbello hit a 29-yard field goal to complete a nine-play, 65-yard march. At halftime it was 10-0, Jesuit.
And the beat goes on. Forty-five yards on the ground brought the offense to the brink of the red zone, where Jordan would find wide receiver Luke Besh for a 22-yard pitch-and-catch. The 67-yard scoring drive gave the Jays a 17-0 lead in the third quarter, but the Tigers quickly trimmed the deficit to 17-7.
Jordan used his legs to seal the game, running nine yards for the score that returned Jesuit to its 3-possession lead. With a 24-7 advantage, the stout Blue Jay defense allowed its second touchdown of the night but prevented the Tigers from anything further. Led by lineman Ethan Branch, Sonny Hazard, and Evan Taffaro, the defense limited the Tigers to 91 yards of total rushing. Linebackers Jimbo Hotard and Dennis Dougherty combined for 12 tackles while lineman Max Jubenville added six tackles on his own.
Through the Lens…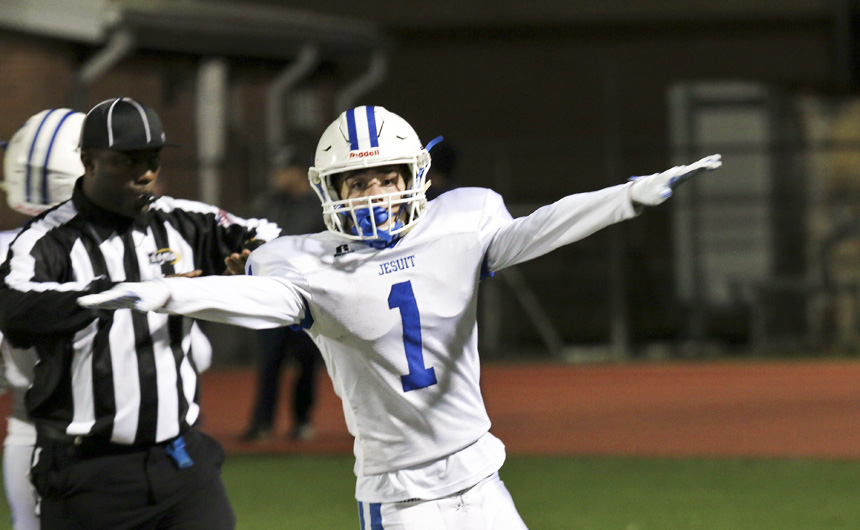 By the Numbers…
Passing: Grant Jordan, 13-22, 153 YDS, 1 TD
Rushing: Rader Jackson, 17 CAR, 85 YDS, 1 TD; Jalen Williams, 12-65, Grant Jordan, 17-27, Jordan Hughes, 1-1
Receiving: Luke Besh, 6 REC, 72 YDS, 1 TD; Luke LaForge, 4-56, Presten Berggren, 1-11; Jack Larriviere, 1-9; Grant Moreau, 1-5
JHS – TOUCHDOWN – Jackson 18 yard RUN (Corbello kick GOOD)
JHS – FIELD GOAL – Corbello kick for 29 yards GOOD
JHS – TOUCHDOWN – Jordan 22 yard PASS to Besh. (Corbello kick GOOD)
HHS – TOUCHDOWN – Naquin 24 yard RUN (White kick GOOD)
JHS – TOUCHDOWN – Jordan 8 yard RUN (Corbello kick GOOD)
HHS – TOUCHDOWN – Naquin 3 yard PASS to Tregle (White kick GOOD)
In His Words…
"(Hahnville is) a great football team,'' Songy said. "They weren't 8-0 for no reason. They are very talented, very well-coached. I'm proud of the way we played them. We were very physical. We came out hitting. We had some adverse situations we had to overcome. And we responded in great fashion.''
On the Horizon…
Jesuit has now won four of its last five games. Looking to improve seeding in the Division I playoffs, the Jays face Rummel at Tad Gormley Stadium with kickoff set for 7:00 p.m. Jesuit's Senior Night ceremony will take place before kickoff.
Read More…
NOLA.com | Jesuit earns weekend off with 24-14 conquest of previously unbeaten Hahnville
CrescentCitySports.com | Surging Jesuit hands Hahnville first loss
NOLA.com | Here are 3 takeaways from Week 9 of New Orleans high school football games
RiverParishFootball.com | Hahnville no longer unbeaten after 24-14 loss to Jesuit