Swimmers Capture 36th Straight Metro Title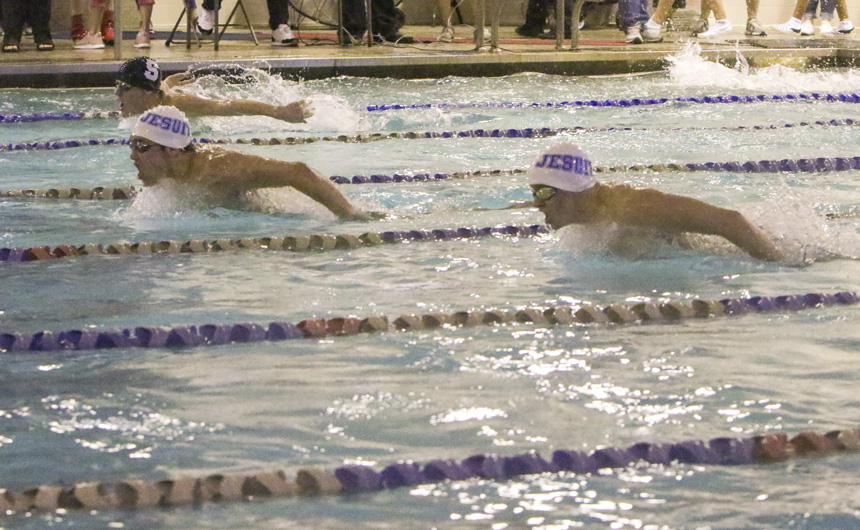 Jesuit swimmers swept the relays and scored multiple swimmers in each of the individual events to secure the team's 36th consecutive metro title. The Blue Jays, who were fresh off winning a district title, had another momentous victory on October 25-26 at UNO, scoring 433 points (more than 200 points higher than the second place scorer).
View the Metro Swimming Photo Gallery
Senior Mike Foley again notched the top spot in the 50 Yard Freestyle and 100 Yard Backstroke. His 50.61 time in the backstroke broke the metro record set last year by his then teammate, Charles Korndorffer.
Freshman swimming talent Joseph Capo placed 2nd in the 200 Yard Freestlye and 3rd in the 500 Yard Freestlye, which is impressive considering that the swimmer ahead of him in both races set metro records in the events and received the top boys swimmer award at the meet.
The commanding victory sets the stage for the state swimming meet in just a few weeks on Nov. 22-23 in Sulphur.
| | | | |
| --- | --- | --- | --- |
| 50 Yard Freestyle | | 100 Yard Backstroke | |
| 1 – Mike Foley | 21.41 | 1 – Mike foley | 50.61 |
| 8 – Joel Guerra | 22.90 | 7 – Jacques Karcher | 56.81 |
| 100 Yard Freestlye | | 8 – Ryan Danna | 57.54 |
| 6 – Joel Guerra | 50.48 | 100 Yard Breaststroke | |
| 7 – Andrew McNeil | 50.49 | 5 – Zachary Davis | 1:03.92 |
| 200 Yard Freestlye | | 8 – Duy Trinh | 1:07.72 |
| 2 – Joseph Capo | 1:49.05 | 100 Yard Butterfly | |
| 4 – Gavin Langston | 1:49.90 | 4 – Gavin Langston | 55.30 |
| 5 – Egan Trahant | 1:50.00 | 5 – Egan Trahant | 55.65 |
| 6 – Ryan Danna | 1:52.30 | 6 – Max Theriot | 57.05 |
| 500 Yard Freestyle | | 200 Yard IM | |
| 3 – Joseph Capo | 4:55.14 | 5 – Zachary Davis | 2:05.31 |
| 7 – Brennan Kernion | 5:08.53 | 6 – Andrew McNeil | 2:05.37 |
| 200 Yard Freestyle Relay | | 400 Yard Freestlye Relay | |
| 1 – McNeil, Guerra, Trahant, Breithaupt | 1:32.58 | 1 – Foley, Langston, Trahant, McNeil | 3:17.43 |
| 200 Yard Medley Relay | | | |
| 1. Foley, Davis, Langston, Guerra | 1:39.11 | | |