Seniors Encouraged to Have Hearts Like St. Ignatius at Ring Mass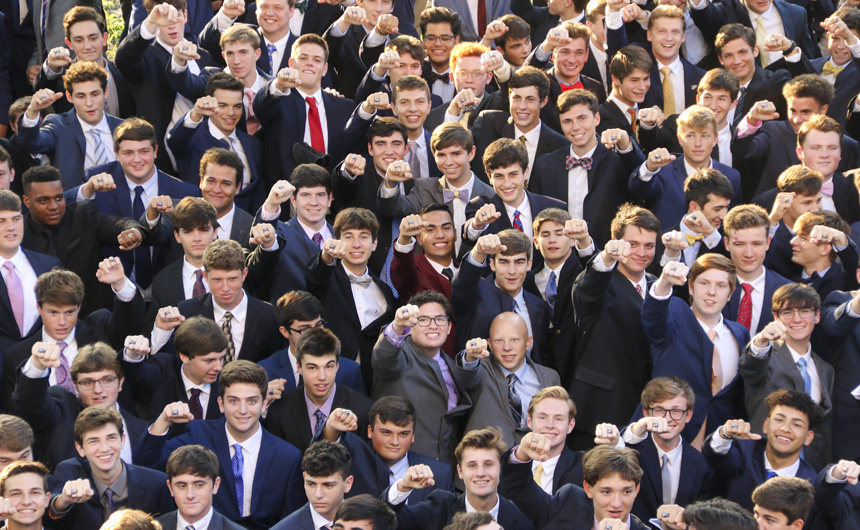 One of the emblematic rituals of being a proud Blue Jay is receiving and wearing the senior class ring. While many students receive their own ring, some have a ring passed down to them from a family member who is a Jesuit alumnus, a tangible sign that the legacy of Jesuit formation is being handed on through the generations.
The Chapel of the North American Martyrs was the site for seniors in the Class of 2020 to receive their rings on Saturday, Sept. 7. Many faculty, family, and friends were on hand for the Ring Mass, for which Fr. John Brown, S.J., was the principal celebrant.
View the Ring Mass Photo Gallery
During his homily, Fr. Brown drew the attention of those present to an image on the Mass program, the image of St. Ignatius outside Rome begging God to place him next to Christ under the cross, abandoning any personal dreams he had for his future. Fr. Brown encouraged the seniors to have a heart like that of St. Ignatius, a heart ready and willing to lose everything for the sake of something better. "Jesuit High School wants to make you ready for a bigger cross," Fr. Brown said, "to carry it for others. And that ring is there to let everyone know that you are up to the challenge."
After the homily, Jesuit rings were presented to the more than 250 seniors gathered in the chapel. At the conclusion of Mass, seniors processed out of the chapel and enjoyed taking pictures with their loved ones. Later that night, seniors celebrated the milestone at the Senior Ring Dance, held at Magnolia Plantation.