Town Hall Meeting Addresses the Dangers of Vaping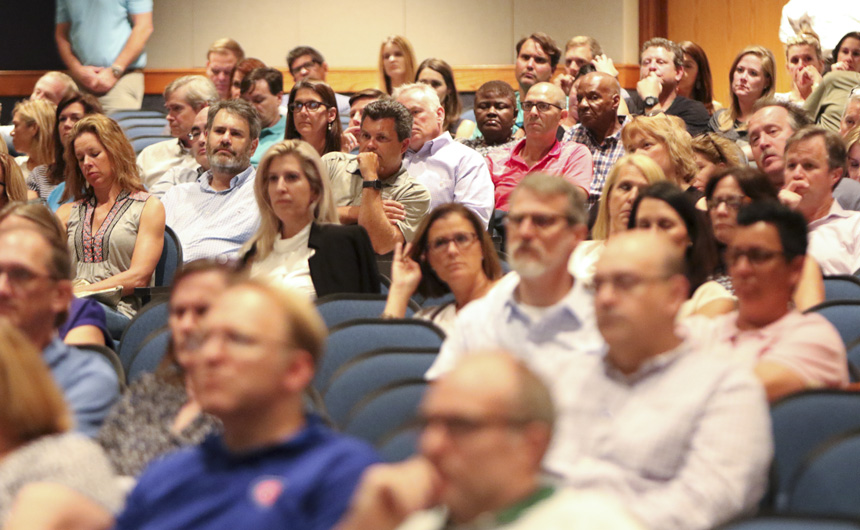 On Thursday, Sept. 5, Student Health & Wellness coordinator Stephen Maffei '08 led a Town Hall Meeting focused on parents' role in helping their sons make healthy choices, especially with regard to avoiding vaping.
The Student Health and Wellness Development's mission to identify, support, and educate students whose behaviors seem to indicate family, academic, emotional, or social problems that could lead to negative consequences such as substance abuse. The program's goal is to help these students avoid alcohol and drugs by providing the structure they need to make healthy decisions. As an adjunct to their grade-level counselor, Maffei meets regularly with students in the program to discuss everything from relapse prevention and stress to grades and social problems.
Maffei then turned the presentation over to "Sudden Impact" program director and registered nurse Bridget Gardner and Trooper First Class Melissa Matey who gave parents practical information to help encourage their sons to make better decisions in regards to vaping. Maffei chose Sudden Impact to address this hot topic because "still so much about vaping is unknown and I wanted the very knowledgeable "Sudden Impact" program to inform parents and students on the dangers and consequences of vaping."
The University Medical Center's "Sudden Impact" program seeks to provide parents with the tools needed to keep their children safe as they navigate Mardi Gras, Jazz Fest, spring break, and prom festivities. Normally the educational program is designed to address injuries and fatalities from driving under the influence of alcohol or drugs and/or from driving without a seat belt. This was a special presentation to address the sudden rise of vaping among youth. By raising awareness, changing substance use attitudes and behaviors, and encouraging better choices, students more ably find alternatives to risk-taking behaviors.
The evening concluded with a question and answer session.
Jesuit's Town Hall meetings focus on topics affecting youth and their parents. These meetings are open to all parents and attendance is strongly encouraged. The meetings reflect timely topics affecting youth, and therefore change each year.
If you have any questions, please contact Jesuit's coordinator of student wellness and development Stephen Maffei '08 at maffei@jesuitnola.org or (504) 483-3828
For more information, parents might find the following resources helpful in talking with their children: