Benefactors Appreciate Art While Jesuit Appreciates Them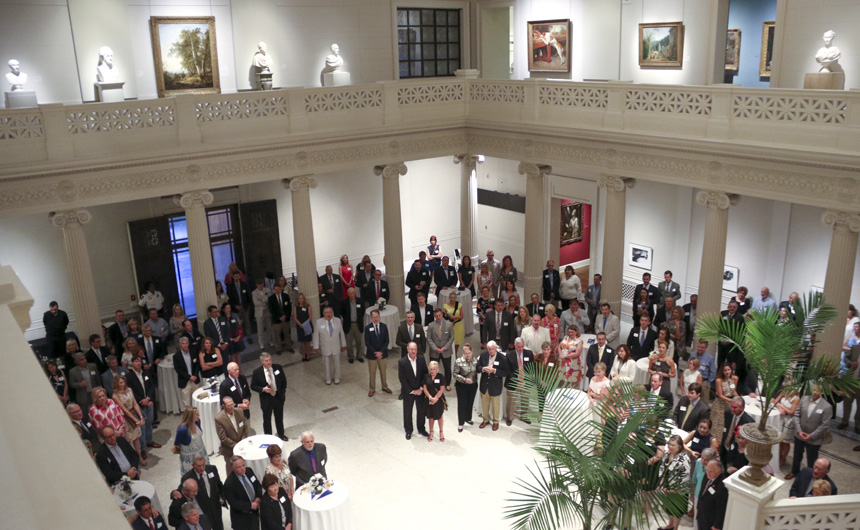 One of the top art museums in the South proved a picture-perfect place to thank members of the 1847 Society and Ignatian Circle for their generous support of Jesuit High School. Hundreds of alumni, parents, parents of alumni, and friends packed into the New Orleans of Museum of Art in City Park to hear how their support is impacting the school they love.
Appropriately, Tom Bagwill, Jesuit's director of institutional advancement, started the program with a quote from French artist Edgar Degas: "Art is now what you see, but what you make others see." Bagwill added, "In that spirit, tonight we don't just thank you for your generosity, but offer our gratitude for the opportunities you are providing for today's Blue Jays and the generations of students who will follow them to Carrollton & Banks."
Senior Carter Montalbano offered his thanks on behalf of his 1,300-plus classmates.
"Thank you for helping me become the man I am today. Thank you for your support of the Parents' Giving Drive and Alumni Giving Drive that keeps Jesuit affordable, for your support of Jesuit's scholarship program that ensures families from all of walks of life will have the same opportunity I've been given, and thank you for supporting the Minds & Hearts Enlightened capital campaign that is making Jesuit stronger and safer."
After publically thanking his mother and father (Ron '83 & Wanda) for the integral roles they have played in his life, Montalbano asked those in attendance for a favor.
"I ask all of you to continue to invest in the campus I call home and the students I call brothers, and I pray that you will continue to see the return on your investment that makes us all proud to say "I love Jesuit High School."
Jesuit president Fr. Chris Fronk, S.J., thanked benefactors for the difference they are making in forming leaders for our world.
View the Photo Gallery of the Jesuit Donor Reception
"We have an amazing group of faculty, staff, and administrators. But we can't do it alone. Jesuit is a great place, but we never want to take excellence for granted. I want us to keep pushing forward, and it is your support that is allowing us to do just that."
Jesuit's transformational campaign includes renovation of almost every classroom and the addition of two new art labs; renovation of the Louis J. Roussel, Jr. Health & PE Building and gymnasium, which has been renamed the Gayle & Tom Benson Arena; construction of a pedestrian walkway across Banks Street; and the addition of a new four-story administration building. The campaign also includes renovating the 1926 wing of the school and adding $5 million to Jesuit's endowment, which will strengthen and grow the school's financial aid program. The president reminded parents, alumni, parents of alumni, and other supporters of the school that it is important to reach the $25 million mark in commitments before December 31, which will trigger a challenge gift of an additional $5 million from an anonymous benefactor. The goal of the campaign is $30 million.
Music was provided by two talented alumni – Roberto Mathews '96, the father of sophomore Roberto Matthews, Jr., and Greg Fortier '16, a music student at Loyola University.
Jesuit offers its profound thanks to all those who help forward the school's mission of developing in its students the competence, conscience, and compassion that will allow them to become men of faith and men for others.