New Blue Jays Encouraged to Become One Single Tribe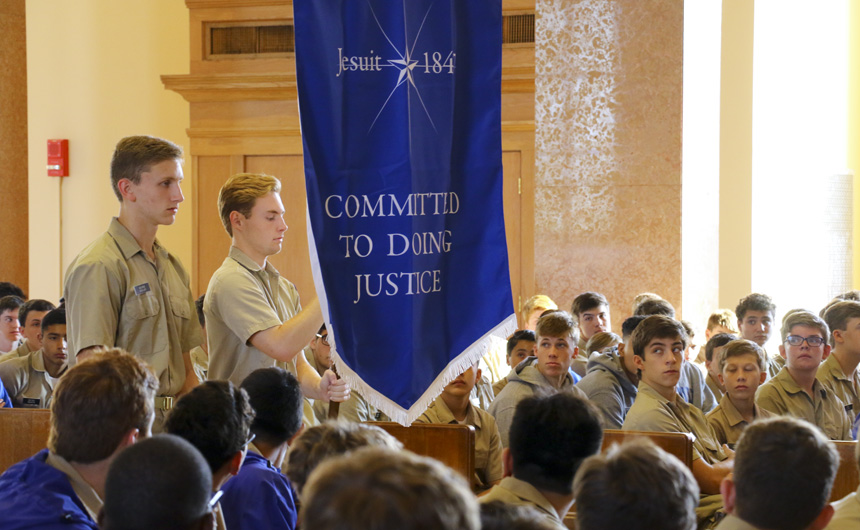 On Thursday, August 15, hundreds of new students wore the khaki uniform as Blue Jays for the first time. Teachers and administrators welcomed the newcomers for a day of orientation to find their classrooms, stock their lockers, and to prepare for the journey before them.
The day began in the Chapel of the North American Martyrs with the time-honored Investiture ceremony, which this year included Mass to celebrate the Feast of the Assumption of Mary. Big Brothers gave each new Blue Jay a "J" pin as a sign of handing on the Jesuit legacy. Students heard words of welcome from Jesuit president Fr. Christopher Fronk, S.J., followed by an address from alumnus Richard Williams '14.
Watch the Investiture Ceremony Address by Richard Williams '14
View the Photo Gallery from the 2019 Investiture Ceremony
Williams quoted T'Challa from the popular Marvel movie Black Panther, telling new Blue Jays to look out for one another as one single tribe. He challenged students with many friends from their previous school use their friend groups to welcome everyone else. He also encouraged those with fewer friends with the words of Jesus, "Be not afraid. Just have faith." He concluded his remarks with two quotes from St. Ignatius Loyola: "Achieve excellence and share it," and "In all things, love and serve."
Williams made the trip to Jesuit from Denton, TX, where he is taking pre-med classes at the University of North Texas. He finished with a degree in history from Dartmouth College in 2018, having served as a member of the school's wind ensemble, an officer on the Faith & Reason board of the Aquinas House Catholic Center, a mentor in the Aquinas House Emmaus peer mentoring program, an editor of the Apologia Christian magazine, and a writer for the Dartmouth Medical Journal.
After the ceremony, students spent 10 minutes in each class getting to know their teachers. Big Brothers were on hand to help new students navigate the campus and feel welcome. The day concluded with a spirited pep-rally in the auditorium.