John Guerra '14 Professes Vows in Society of Jesus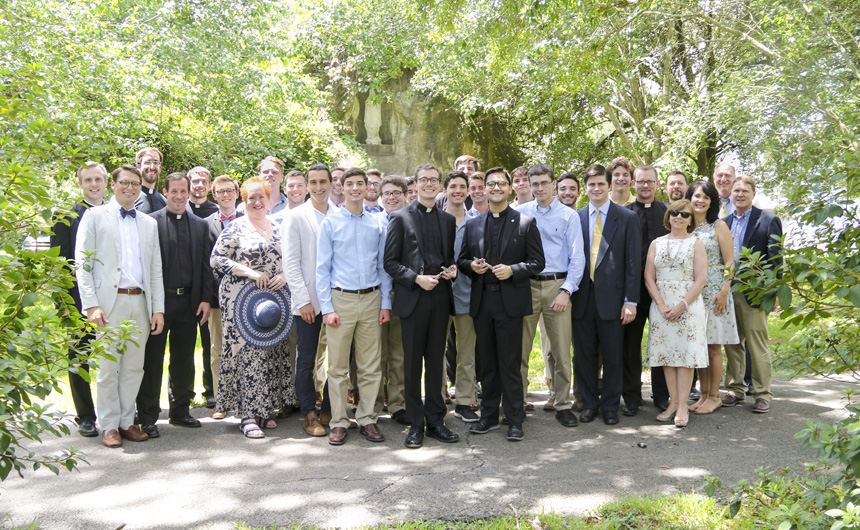 On Saturday, Aug. 10, two novices with connection to Jesuit High School professed religious vows in the Society of Jesus. At the ceremony, which is customarily held on a Saturday surrounding the Feast of the Assumption, twelve novices professed vows of poverty, chastity, and obedience, thus ending the two-year period of discernment in the novitiate.
John Guerra '14 is the most recent Jesuit alumnus to join the order. In his days as a student, Guerra worked in campus ministry and the Sodality, and his musical talents did much to lead fellow Blue Jays in the beautiful worship of God at student Masses. As a novice, Guerra worked at Cristo Rey High School in Houston and St. George's High School in Jamaica. This fall, he will begin First Studies at Saint Louis University.
Taking vows alongside Guerra was Rivers Simpson, who spent months last school year serving Jesuit on experiment as a novice. Simpson bonded with many members of the Jesuit community in his service to students through his history courses and the Philelectic Society. It is customary for the men taking vows to receive the vow cross of a deceased Jesuit, and Simpson chose the vow cross of Br. Billy Dardis, S.J., whose humble service became a model of Jesuit life during Simpon's work on campus.
A considerable crowd of Jesuit students, alumni, and faculty traveled to the tranquil community of Grand Coteau, LA, to witness the vows. Other alumni in Jesuit formation, Alex Coffey '11 and Jordan Jones '01, were present in prayerful support, as were many Jesuit priests and scholastics who have taught over the years at Carrollton and Banks.