Khanh Nguyen and Andrew Schiro Selected as 2019 Profile Award Honorees
Two Jesuit High School teachers were recently honored as recipients of the 2019 Profile of a Jesuit Teacher Award, an annual recognition of faculty excellence during the school year.
This year's recipients were science and math teacher Khanh Nguyen and 8th grade guidance counselor Andrew Schiro whose profiles below provide a glimpse into why these faculty members were nominated and selected for this year's honor.
Teachers are nominated by their colleagues against the standard of being Open to Growth, Religious, Loving, Intellectually Competent, Professionally Competent, and Committed to Justice. In addition to a commemorative plaque, each teacher this year received $5,000.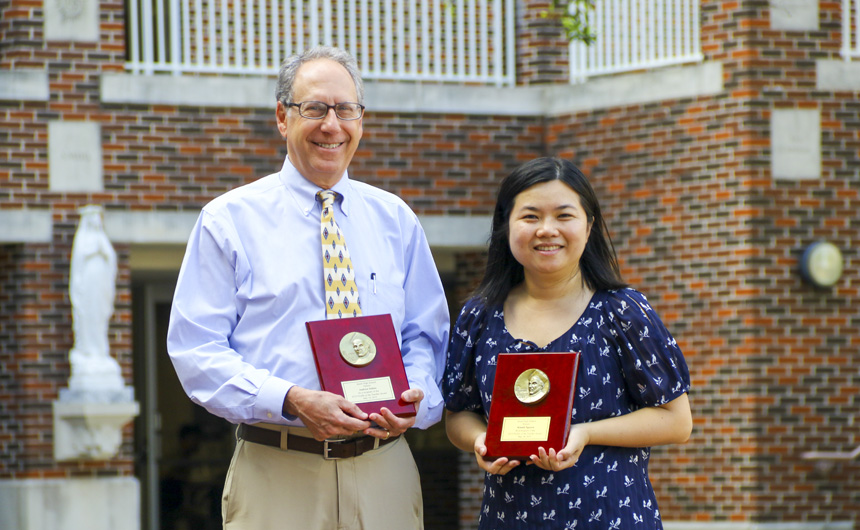 ---
Profile Award Honoree Khanh Nguyen
Khanh Nguyen fits the Profile of a Jesuit Teacher in many ways. In her Academic Ministry, she works tirelessly to ensure that her classes meet the needs of her students by planning and revising lessons each year. Khanh has taught a new class every year since she began teaching at Jesuit, and she always approaches those new preps with enthusiasm. To prepare herself for some of those new preps, she has attended different professional development conferences. Khanh shares her new-found knowledge with her colleagues in both the Science and Math departments. She encourages her students to improve their use of technology to solve problems in both Math and Science and to improve their collaborative skills through group projects.
Khanh's interactions with students and their parents are professional, even with the most extreme helicopter parents. She is willing to come up with solutions to accommodate special situations while still keeping things equitable for all of her students. She is a challenging teacher who supports her students in their paths to success in Math and Science.
Khanh is open to sharing her spiritual life with students. She participates in a Kairos retreat every year. While on retreat, she encourages students to realize how much God loves them and to see that love through the people in their lives. She fully immerses herself in the faculty retreats, even staying overnight. She has chaperoned service project trips during the summer. In her work with Student Council, Khanh encourages the Executive Board to put together Thanksgiving baskets.
Working with the Student Council over the past three years, Khanh has introduced new ways to organize some of the more detail-oriented processes, such as digitizing dance ticket sales and conducting student council elections through a Canvas app. She works with Justin Genovese in aiding Student Council officers to bring fun activities to the student body. Moderating Student Council requires many hours of work before the school year starts, during the school day, afternoons, and weekends. Khanh is there for all of those times to make sure that things run as smoothly as they can. She is one of our best examples of "how to give and not to count the cost, to toil and not to seek for rest, to labor and not to ask for reward." For these reasons and many others, Khanh is fully deserving of the Profile award.
---
Profile Award Honoree Andrew Schiro
Andrew Schiro is an exceptional guidance counselor, and his commitment to the students, parents, and faculty of the Jesuit High School community makes him worthy of the Profile Award. He is loving, caring, and gives of himself constantly. Andrew lives by a strong moral code, yet he is never righteous or judgmental of others.
He is a colleague that can always be counted on for help with anything, and his fellow counselors consider him "the rock" of their department. Andrew is viewed the same way by students because he is always there for them.
For many 8th graders, the adjustment to high school can be tough. Early on, Andrew takes them under his wing and helps them in innumerable ways. He knows how to reach students, especially those who are struggling, and has the compassionate skill of knowing how to comfort them. Andrew's care for students is exemplified in how he talks to them, motivates them, and supports them. 8th graders come to know his genuine commitment to them even more by his regular presence at their athletic events, dances, and gym nights.
Andrew's contribution to Jesuit's Spiritual Ministry is most evident in his work with students. In his meetings with them, he focuses on the importance of their spiritual life and religious formation. More important, he serves as a wonderful role model as a faith-filled, prayerful man. Students witness Andrew's dedication in his participation at Masses and weekly adoration.
Andrew Schiro goes beyond his role as guidance counselor. He is a mentor to his colleagues, a valuable resource to teachers, and a dependable supporter of students. He is a respected Jesuit High School educator who has made an indelible impact on countless lives.