Funeral Arrangements Announced for Paul Frederick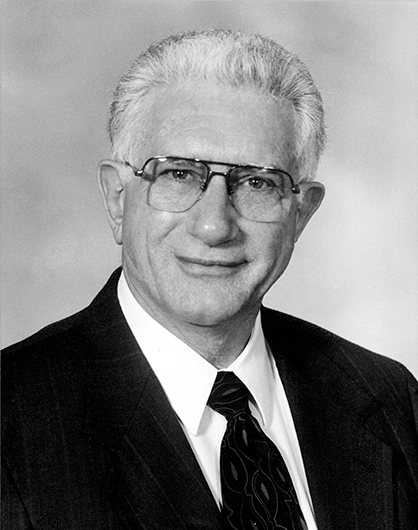 The Jesuit High School community mourns the passing of Paul Frederick, a longtime teacher and administrator whose tenure at Jesuit had a tremendous impact on the life of the school. A Mass of Christian Burial will be held at Garden of Memories funeral home at 3 p.m. on Monday, May 13. Visitation will precede the Mass from 1 – 3 p.m.
In 2016, Frederick was inducted into Jesuit's Hall of Honors. At that time, the following was written as a testimony to his long and profound career as an educator:
Paul Frederick, who started at Jesuit in 1955, walked the halls of Jesuit for almost six decades, making it a better school every step of the way.
He was a teacher, the prefect of discipline, director of faculty, academic assistant principal, principal, and then teacher again. In his final years at Carrollton & Banks, he assisted the administration in the professional development of faculty, sharing his passion for instruction with those who followed in his enormous footsteps. For Mr. Frederick, it all started and ended in the classroom. He was a mainstay in the Modern Foreign Language department as a Spanish teacher, eventually serving as department chair.
The Bonuses facts states that the legacy he leaves includes the development of the rotating schedule, Jesuit's grading system, curriculum enhancements, the student code of conduct, and the faculty handbook. Immeasurable is the multitude of students whom he helped prepare for college and life.
One of Frederick's colleagues, Gary Mannina, who became principal of St. Andrew's Episcopal School after his days at Jesuit, remembers Frederick as an imposing presence. What Mannina respects most about Frederick is his "passion and enormous commitment not only to instruction but to the education – in the Latin sense educere, to bring forth, to raise young men."
He was an outstanding listener, which assisted him greatly in his relationships with students and fellow faculty. Well before "Dancing With The Stars" became a hit television program," Mr. Frederick and his wife Priscilla taught ballroom dancing to members of Jesuit's Homecoming Court.
Paul Frederick will long be remembered and appreciated for his professionalism, dedication, and service to Jesuit High School.