Glynn Cyprien '85, Texas Tech Basketball Coach, Inspires Blue Jays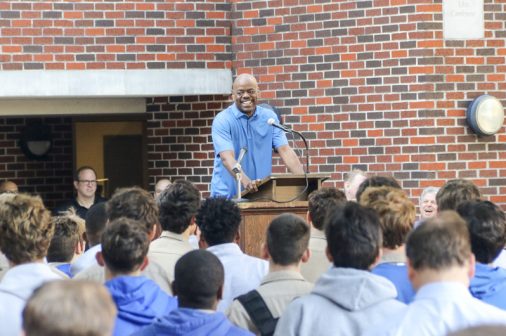 At morning assembly on Friday, April 26, the Jesuit community was treated to an inspiring visit by a great Blue Jay from the Class of 1985, Glynn Cyprien. Cyprien, who is an assistant basketball coach at Texas Tech, is just returning from an NCAA tournament championship appearance in which the Red Raiders finished as national runners-up after pushing Virginia to overtime.
Watch the Video of the Address by Coach Cyprien
Cyprien was introduced by senior Max Bond, whose father is Cyprien's close friend and former Jesuit basketball teammate from the Class of 1985.
"When you walk out of these doors, be confident," Cyprien said as he directed his attention to the seniors, who are approaching their last full week at Jesuit. "Rely upon your classmates…and know that the education you got here at Jesuit is going to carry you a long way."
Cyprien's career success as a coach at the collegiate and pro levels has gained him a reputation as one of the top coaches and recruiters in the country. At the college level, he has been the assistant coach at Texas A&M, Arkansas, UNLV, New Mexico State, Oklahoma State, Western Kentucky, Memphis, Kentucky, and, this year, Texas Tech. At the pro level, he has been an assistant with the Memphis Grizzlies and head coach of their NBA G-League team, the Memphis Hustle. He and his wife have two children.