Dooky Chase '67 Closes Out St. Peter Claver Club Speaker Series
Edgar L. "Dooky" Chase III '67 gave an enthusiastic presentation to members of the St. Peter Claver Club as well as interested students and faculty on Thursday, April 11. Jesuit's 2012 Alumnus of the Year used the life of the club's namesake to segue into a variety of topics, all geared to inspiring students to live a life more like St. Peter Claver.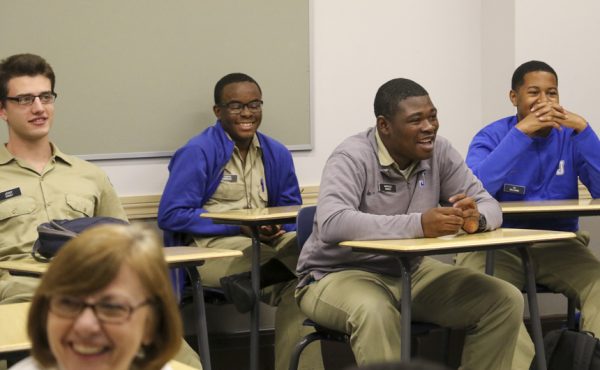 If there was a recurring message in the day's talk, it was to pursue passions in life that go beyond the material. Making money is easy, he told students. But allowing yourself to be a true man for others is what it's all about.
Chase also regaled students with stories about the family restaurant, Dooky Chase's, and its role in the Civil Rights Movement. Against a backdrop of pictures of presidents George W. Bush and Barack Obama dining at the venerable Orleans Avenue establishment, Chase told of clandestine strategy meetings held in the upstairs dining room, where movement icons such as Thurgood Marshall and Dr. Martin Luther King, Jr. broke bread while discussing strategy. He told the students of one particular weekend night when Marshall asked for the phone line to be held open, a request that, in the days before call waiting, would invariably cost Dooky Jr. and his wife, Leah, some business. As the expected call was coming from Robert F. Kennedy, Dooky Chase Jr. reluctantly agreed to the request.
On a more practical level, Chase III good-naturedly skewered every questioner or participant who predicated their statements with "um."
"What a great finish to the series," said St. Peter Claver club co-moderator Jay Combe '83. "We're going to be hard-pressed to surpass this year's speakers."
The inaugural St. Peter Claver Club Lunchtime Speaker Series featured local attorney and lobbyist Christian Rhodes in the first quarter speaking on the topic of "Navigating the Minority Experience."
In the second quarter, Innocence Project staff attorney Kia Hall-Hays delivered a talk entitled "And Justice for All."
In the third quarter, the husband and wife team of David Lee Simmons and Faith Dawson Simmons gave a presentation entitled "Raising Eli," during which they spoke of the challenges faced by mixed race couples raising children.