Switchboard Entrance Temporarily Relocated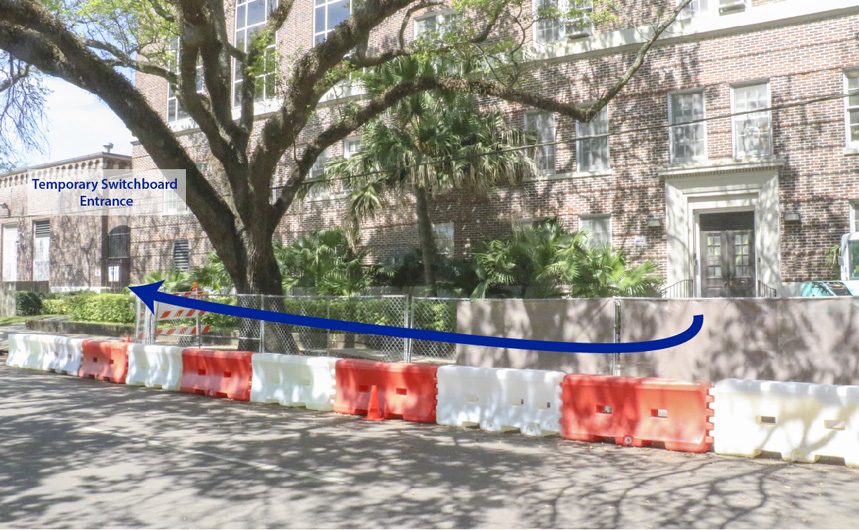 Jesuit High School is excited to embark on the next phase of campus development to carry out its strategic plan to modernize the facilities and enhance campus safety and security.
Construction has begun for the footers of the pedestrian bridge crossing Banks Street. To accommodate the work space, the switchboard entrance to the school has been relocated. A temporary switchboard entrance has been constructed through the alley on Banks Street between the former switchboard entrance and the entrance to the courtyard.
On Monday through Friday from 7:00 a.m. – 4:00 p.m., visitors to campus should enter the temporary switchboard entrance from the Banks Street side through the iron gate of the alley. The receptionist will lead guests through the regular check-in procedures during this time.
After 4:00 p.m. on weekdays and at all hours on Saturday and Sunday, visitors should access the temporary switchboard entrance through the courtyard side of the alley entrance. For these campus events taking place outside of regular switchboard hours, the host of the event on campus will assure that guests check-in at the temporary switchboard entrance.
Please note that the alley entrance WILL NOT be used as a pass-through connecting the yard and Banks Street. The gate on the opposite side of the alley from the open entrance will be locked in off hours. Visitors to campus will only be able to use the alley for access to the school building.