A Magical Mardi Gras for the Blue Jay Band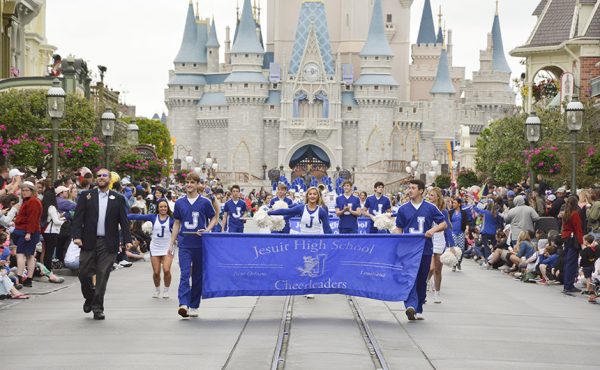 It was a true New Orleans Mardi Gras day at the Magic Kindom as members of the Blue Jay Marching Band, Jayettes, and Cheerleaders, along with bands from Chalmette High School and Archbishop Rummel, paraded down Main Street USA as part of a recent trip to Florida's Walt Disney World. This marked the Blue Jay Band's 14th trip since they started making the magical journey back in 1993 with only 50 band members. With the Cheerleading squad in attendance for the first time, Jesuit High School was represented by a record number of 130 performers.
After their crowd-pleasing performance on Mardi Gras day, the Jesuit group enjoyed three days exploring Walt Disney World and Universal Studios. The trip culminated Friday night with the Blue Jays attending Cirque du Soleil's LUZIA.